The nutrients of freeze dried blueberries are almost the same as fresh blueberries, but freeze dried blueberries are easier to store and carry, and they are not limited by the season, so you can eat them whenever you want. Crispy taste, suitable for all ages.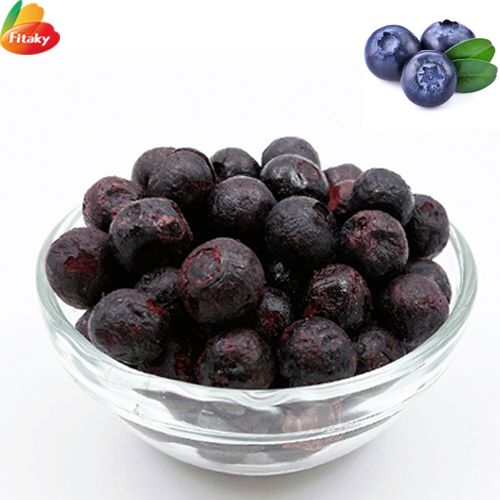 Benefits of Fitaky freeze dried blueberries
1. Freeze-dried dried blueberries can be eaten directly or made into tea
2. No additives, sweet and sour taste, crispy taste
3. Free samples and custom packaging and logos services
4. Shelf life 12 months
5. Type: wholesale/granules/powder
6. organic, halal, kosher, etc.
7. 100% factory price
So far, our freeze dried products, such as freeze dried strawberries, freeze dried mangoes, freeze dried peaches, freeze dried dragon fruits, freeze dried apples, etc., have been exported to Singapore, Malaysia, the United Kingdom, Spain, Indonesia, the United States, Germany and other countries . Variety and supply are abundant.
If you are interested in the high qulity freeze dried blueberries, and wanna know the freeze dried strawberry price, contact Polly freely.
Email: polly@machinehall.com
Whats app: +86 18538192032
Packing of the freeze dried blueberry
Outer side: packed on the carton of 5-10kg
Inner side: Foil bag
Load of the freeze dried blueberry
If packing in 20kg/carton, one 20ft container can load 14 mts, one 40ft container can load 22 mts.