Instant Noodle Dried Vegetable Sachets for Vegans: A Tasty and Healthy Combination
Vegans are increasingly paying attention to their dietary choices, looking for vegetarian options that are both convenient and tasty. Instant noodle dried vegetable sachets are an exciting option, not only are they quick and easy, they're packed with veggies and nutrients, providing a satisfying and healthy food option for vegans.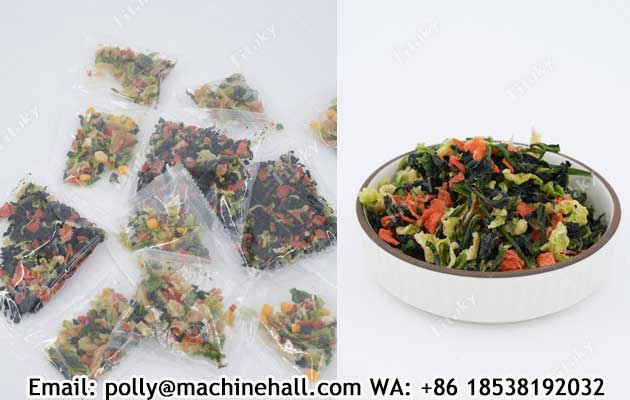 Instant Noodle Dried Vegetable Sachets: A Vegan Gourmet Solution
Traditional instant noodles often contain animal products such as chicken or beef essence. However, in order to cater to the needs of vegetarians, more and more brands have launched vegan-friendly vegetable packs for instant noodles. Based on plant-based ingredients, these products offer meat-free deliciousness.
variety of vegetables
Instant noodle vegetable packets usually contain a variety of colorful vegetables, providing balanced nutrition for vegetarians. These vegetables can include: baby spinach, carrots, bean sprouts, mushrooms, bell peppers, cabbage, freeze-dried green beans, freeze-dried corn kernels, etc.
Easy and fast cooking
Using instant noodle vegetable packets is very simple. Simply add the veggie packets to boiling water, then add instant noodles. As the noodles cook, the vegetables also become tender and delicious. You can add seasonings according to your personal taste, such as soy sauce, chili sauce, peanut butter, etc., to create a unique taste.
health and environmental protection
Vegan dietary choices not only benefit your personal health, but also help reduce your carbon footprint. Choose vegan-friendly instant noodle vegetable packets to help support sustainability and the environment, reducing reliance on animal products.
Instant Noodle Veggie Packets are a delicious solution for vegetarians that combine convenience and nutrition. Whether you're vegan or looking for a healthier quick meal option, these products have you covered. Try them once and you'll find they're a convenient, delicious and wholesome vegetarian option for any time of day.