Customized Instant Noodle Vegetable Sachets
Fitakyfood.com is a professional dehydrated vegetable manufacturer, not only provides large batches of single dehydrated vegetables, but also supports timing mixed dehydrated vegetables and instant noodle vegetable sachets.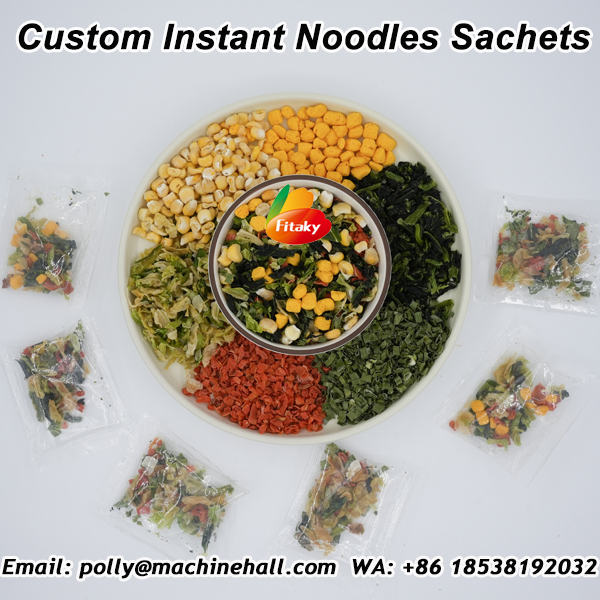 If you want to customize vegetable sachets for instant noodles, please consider the following points:
Dehydrated Vegetables: Offer a variety of dehydrated vegetables such as carrots, peas, corn, bell peppers, mushrooms or green beans. These vegetables can be easily rehydrated when hot water is added with the noodles.
Custom mixed dried vegetables: Create a unique blend of vegetables by combining different vegetables in each sachet. For example, you might offer a packet of mixed carrots and peas, another packet of corn and bell peppers, and so on. This allows customers to have different flavors for each serving.
Seasoning Vegetables: Season vegetables before dehydrating to enhance their flavor. You can choose from garlic and herb flavored vegetables, spicy chili flavored vegetables, or even braised vegetables. This adds an extra layer of flavor to the noodles.
Organic and fresh options: If you want to cater to health-conscious or environmentally conscious consumers, consider offering sachets filled with organic or fresh vegetables. These may include freeze-dried or air-dried vegetables that retain their nutritional value and flavor.
Customizable Options: Allow customers to choose their vegetable bags from a variety of options. This can be done through a mix and match system, where they can choose their favorite vegetables or vegetable mixtures to include in their instant noodle packs.
Specialty Veggie Bags: Add unique or exotic vegetables to your bag for even more variety. Examples include bamboo shoots, seaweed, lotus root, freeze-dried shrimp, dehydrated kimchi, etc. These can provide customers with a taste experience like no other.
Vegan or Vegetarian Options: Available in vegetable pouches designed for vegans or vegetarians. Make sure the vegetables and seasonings used do not contain any animal-derived ingredients.
If you are interested in instant noodle vegetable package, please feel free to consult!
Email: polly@machinehall.com
Whatsapp: +86 18538192032
Website: https://www.fitakyfood.com/product/seasoning-packs.html