The Defferences Between The Dehydrated Tomatoes And The Sun-dried Tomatoes
Dehydrated tomatoes emerged later than sun-dried tomatoes, in part because of the more complex way they are made. But dehydrated tomato flakes have a high daily yield and are not affected by the weather. For dehydrated tomatoes, the tomatoes are washed and then passed through a long tunnel, exposing them to a warm current. It is a faster alternative to sun-dried varieties and allows for greater variation in the product. Dehydrated tomatoes have a moisture content of less than 7%, and after 12 to 15 months of storage, the taste is less pungent and the color is slightly lighter.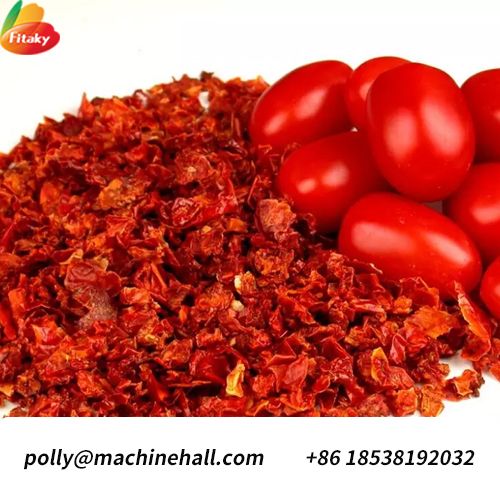 Sun-dried tomatoes are made in different ways. Ripe tomatoes are first washed, cut in half, and then usually placed in a water bath containing sulfur dioxide. They are then placed in drying trays for 7 to 10 days in the sun. After that, they are cut and packaged. Sun-dried tomatoes typically contain 12 to 24 percent moisture and have a more intense flavor, but don't have as long a shelf life as dehydrated tomatoes, darkening in color after 9 to 12 months of expiration. Refrigeration is recommended.
As a dehydrated tomatoes supplier, our current daily output of the high quality dried tomato falkes is 20 tons, the supply is sufficient and stable, and we provide customers with free samples and customized services with complete product certification.
If you are interested in the dehydrated tomato granules, and wanna know the dehydrated tomatoes price, welcome to visit the factory at any time to order.
Email: polly@machinehall.com
Whats app: +86 18538192032
Website: https://www.fitakyfood.com/product/dehydrated-tomato.html