High quality dehydrated tomatoes are made from fresh tomatoes. At the same time, we use modern biotechnology to retain the nutrients intact to maintain the color, taste and nutritional content of fresh tomatoes, but are more portable and store longer than fresh tomatoes.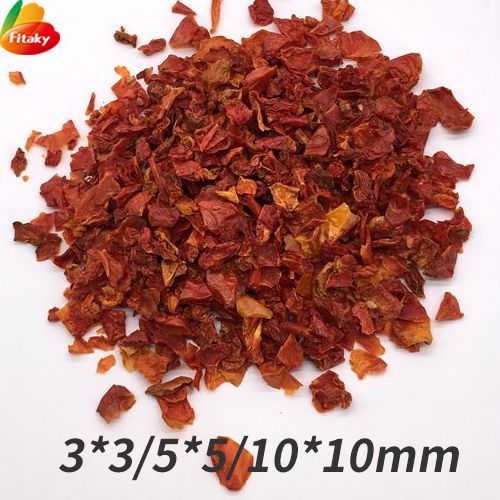 About the tomato products, we also wholesale dried tomato flakes and tomato powder.
Organic dried tomato flakes are high-quality food raw materials mainly used for restaurants, hotels, food processing plants, resale, etc. The consumption of dried tomato flakes make people's diet no longer limited to seasonal supply, but can be enjoyed at any time.
More information about the dehydrated tomatoes
1. Non-GMO & No additives & Vegetarianism
2. The dehydrated tomatoes have certified Halal, Brc, Kosher, Organic, etc.
3. Provide free dried tomatoes samples & Custom Products and Packaging
4. Sufficient reserves, stable prices, support for large-scale orders.
5. Perfect after-sales service system, quality assurance.
As the dehydrated vegetables manufacturer, we provide more than 100 kinds of dehydrated vegetables, such as dehydrated red pepper diced, dehydrated carrot granules, dehydrated chives, dried shiitake mushrooms, dehydrated black fungus and other products.
Friends who are interested in dehydrated vegetables are welcome to consult at any time.
Packing of the dried tomato flakes
1. Inner packing: Double polybags

2. Outer packing: Paper carton with customized label
Load of the dried tomato flakes
If packing in 20kg/carton, one 20ft container can load 8.5 mts, one 40ft container can load 16 mts