High quality dried toamto flakes are made from fresh tomatoes. At the same time, we use modern biotechnology to retain the nutrients intact to maintain the color, taste and nutritional content of fresh tomatoes, but are more portable and store longer than fresh tomatoes.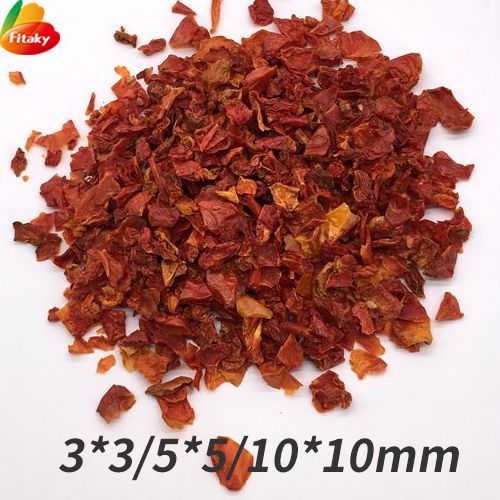 About the tomato products, we also wholesale bulk dried tomato flakes and tomato powder.
Bulk organic dried tomato flakes mainly used for restaurants, hotels, food processing plants, etc. The consumption of dried tomato flakes make people's diet no longer limited to seasonal supply, but can be enjoyed at any time.
Benefits of the dried tomato flakes
Non-GMO
Halal certification
Provide free samples & support customization
100% factory price

Does not contain any additives and preservatives
As the dehydrated vegetables manufacturer, we also sell dehydrated red pepper diced, dehydrated carrot granules, dehydrated chives, dried shiitake mushrooms, dehydrated black fungus and other products.
Email: polly@machinehall.com
Whats app: +86 18538192032
Packing of the dried tomato flakes
1. Inner packing: Double polybags

2. Outer packing: Paper carton with customized label
Load of the dried tomato flakes
If packing in 20kg/carton, one 20ft container can load 8.5 mts, one 40ft container can load 16 mts