Dehydrated cabbage flakes are dried vegetables made by soaking most of the water in fresh vegetables. It can be restored by immersing it in water before eating, and retains the original color, flavor and nutritional content of fresh vegetables. Dehydrated cabbage flakes overcome the shortcomings of fresh vegetables such as difficult transportation and storage, and alleviates the problem of imbalance between supply and demand in seasons. At present, the production techniques of dehydrated cabbage include vacuum freeze drying and hot air drying.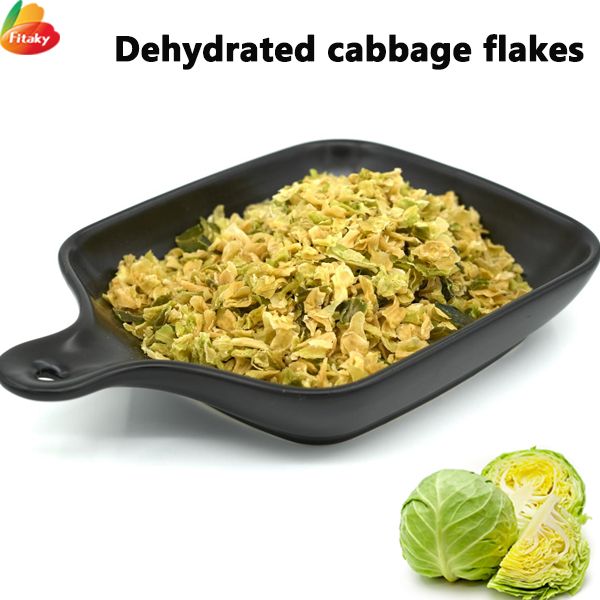 Fitakyfood.com's factory is located in the raw material production base of fresh cabbage. The time from picking a large amount of fresh cabbage to processing into dehydrated cabbage flakes is less than 12 hours, which fully guarantees the nutrition of dehydrated cabbage flakes.
Except the dehydrated cabbage flakes, we also have a large selection of dehydrated red cabbage flakes and red cabbage powder with sufficient and stable supply.
More information about the dehydrated cabbage flakes
1. Provide free dried cabbage flakes samples & customized products & customized packaging
2. Non-GMO & No food additives & Natural
3. The dehydrated cabbage flakes have certified Halal, Organic, Kosher and more
4. Perfect after-sales problem solutions
5. Sufficient supply, stable price, support for bulk order
6. 100% factory price & fast delivery
So far, we provide more than 100 kinds of dehydrated vegetables and high quality vegetable powder, such as dehydrated carrot diced, carrot powder, dehydrated shiitake mushroom, shiitake mushroom powder, dehydrated spinach, spinach powder, etc.
Packing of the dried cabbage flakes
1. Inner packing: Double-layer polybag or PP bag
2. Outer packing: Paper carton with customized label
3. As customer's requirement
Load of the dried cabbage flakes
If packing in 20kg/carton, one 20ft container can load 10 mts, one 40ft container can load 25 mts.