Dehydrated shiitake mushrooms are dried and processed from fresh shiitake mushrooms, which are rich in selenium, iron, dietary fiber, protein and vitamin C. No preservatives, healthy and safe. Dried shiitake mushrooms are delicious and tender after rehydration, and are rich in nutrition. They are a high-quality food raw material and can be widely used in various food processing.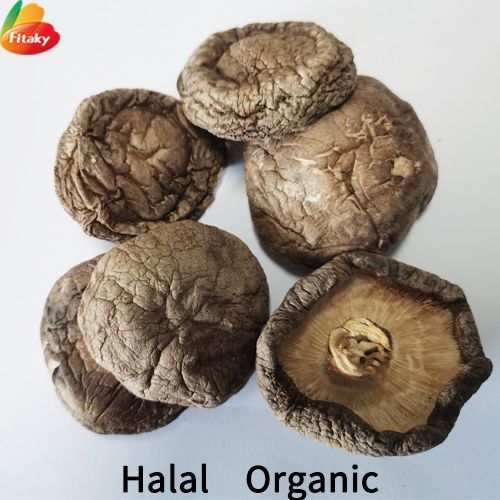 Fitakyfood.com offers the following three different grades of dehydrated shiitake mushrooms
First-class dehydrated mushrooms: the mushroom cap is more than 6 cm, without mushroom feet, and the fragrance is strong.
Second-class dried shiitake mushrooms: the mushroom cap is 4-6 cm, the wrinkles are quite thick, and the curling edge is not less than 2 mm;
Third-class dehydrated shiitake mushrooms: the mushroom cap is 2.5-4 cm; the flesh is slightly thinner.
What's more, We not only support the customization of various specifications of dehydrated shiitake mushroom products, such as dehydrated shiitake mushroom slices, dehydrated shiitake mushroom slices, dehydrated shiitake mushroom granules, shiitake mushroom powder, etc. We also offer dried shiitake mushroom,dried porcini, dried morel, dried button mushroom, dried cremini mushroom, dried oyster mushroom, dried enoki mushroom, dried king oyster mushroom, dried chanterelle mushroom, etc.
More informations about the dried shiitake mushrooms
1. We provide free dried mushroom samples for product test
2. The dried mushrooms have certified the Organic, Brc, FDA, Halal, HACCP, ISO, etc. Quality assurance.
3. Factory direct sale, 100% factory price, fast delivery.
4. Perfect after-sales service system, guarantee satisfaction.
Customers who are interested in dehydrated shiitake mushrooms are welcome to consult at any time.
Video:

Product Packing Of dried shiitake mushroom
Small bags: 100g, 200g, 300g, 500g, 1kg, 2kg, 3kg, etc
Bulk packaging: 10-25kg per carton lined with food grade plastic bag
Other kinds of packaging as per customer's request
Load of the dried shiitake mushrooms
If packing in 20kg/carton, one 20ft reefer container can load 10 mts, one 40ft reefer container can load 18 mts.
Delivery Way: For urgent and small order, we can ship by air. For large quantity, by sea is the best choice.