High quality dried purple sweet potato cubes maintain the color, taste and nutritional content of fresh purple sweet potato, but are more portable and store longer than fresh purple sweet potato. At the same time, the taste of dehydrated purple sweet potatoes is the same as that of fresh purple sweet potatoes after rehydration, and the reserves are sufficient and the price is stable.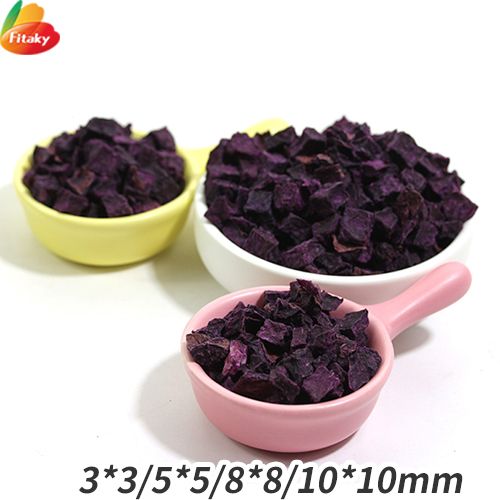 Fitakyfood.com, as a professional dehydrated purple sweet potato products manufacturer, not only provides free dried purple sweet potatoes samples but also provides customized services.
Regarding dehydrated purple sweet potatoes, the manufacturer (fitakyfood.com) provides the following services:
1. Provide free samples of dried purple sweet potato cubes for customers to test product quality.
2. The manufacturer supports customization according to the specific needs of customers, such as the specifications, packaging, and labels of dehydrated purple sweet potato cubes, to meet the diverse needs of customers.
3. Dehydrated purple sweet potatoes has passed ISO9001, HACCP, HALAL, BRC, FDA, Kosher, ORGANIC and other product certifications.
4. Fitakyfood.com has a complete logistics and transportation system, timely information updates, guaranteed fast delivery, and a complete after-sales service system, so that customers have no worries!
The production process of dried purple sweet potato cubes:
Selection of fresh purple sweet potato raw materials - cleaning - dicing - rinsing - boiling - draining - pushing sieving - drying - sorting - inspection - packaging.
Nutritional value of dried purple sweet potato cubes
1. Dehydrated purple sweet potato granules are rich in selenium, protein and anthocyanins
2. Dried purple sweet potato cubes are rich in selenium and iron, which are essential elements for human body to resist fatigue, anti-aging and nourish blood.
In addition to dehydrated purple potato granules, we also have dehydrated pumpkin granules, dehydrated beetroot, dehydrated mushrooms, and more than 100 kinds of dehydrated vegetables for sale.
Welcome to consult anytime.
Packing of the dehydrated purple sweet potato cubes
10kg/Foil bag; 20kg/carton
as customer manager's requirement
Load of the dehydrated purple sweet potato cubes
If packing in 20kg/carton, one 20ft container can load 14 mts, one 40ft container can load 22 mts