Our high quality dehydrated carrot granules are dried products that preserve the original flavor of fresh carrot as far as possible. They are often seen in the instant noodle packs.
In addition to high quality dehydrated carrot granules, we also have bulk dehydrated carrot slices, dehydrated carrot shreds, and provide a variety of different sizes.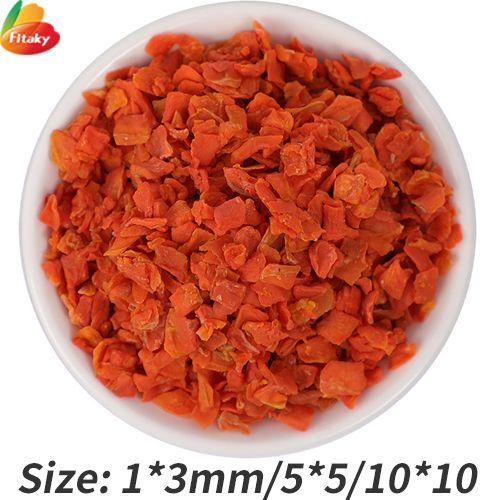 About the premium dehydrated carrot granules
1. The dehydrated carrot has low water content, is easy to store and is easy to carry, and is a good ingredient for convenience food.
2. After drying, the dehydrated carrot is double-selected by machines such as X-ray machine and metal detector as well as manual labor to ensure that the product is free of impurities. Different forms of packaging, trademarks, and product specifications can be provided according to customer requirements.
3. Our dehydrated carrot granules have obtained ISO9001 certification, FSSC22000 certification, kosher certification, halal certification, US organic USDA certification, UK retail BRC certification, food production SC certification, etc.
4. In order to facilitate customers' product testing, we can provide free samples.
5. Factory direct supply, price concessions, total supply is sufficient.
We offer more than 100 kinds of dehydrated vegetables, such as dehydrated shiitake mushrooms, dehydrated cabbage flakes, dehydrated spinach, etc. If you have other needs, please feel free to leave a message for consultation.
Packing of the dehydrated carrot granules
1. Inner packing: Aluminum foil bag* 2(10kg/bag)
2. Outer packing: Paper carton with customized label
Load of the dehydrated carrot granules
If packing in 20kg/carton, one 20ft container can load 14 mts, one 40ft container can load 22 mts