The dried chives, also called dried spring onion or green onions, which is smaller in size and lighter in weight than fresh vegetables, it can be restored after entering water, and it is convenient to transport and eat, and it is much favored by people.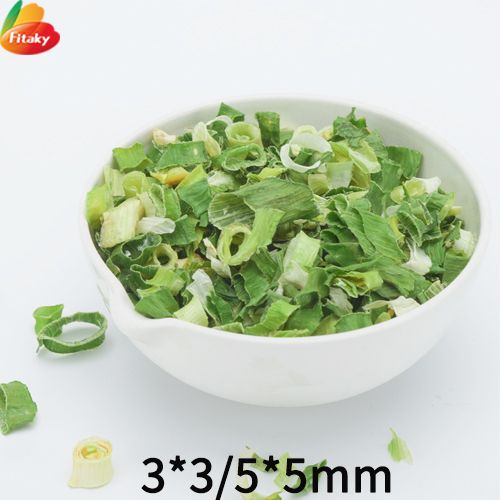 High quality dehydrated chives are currently mainly used for food ingredients such as soups, seasonings, ramen and canned food.

More information about the dried chives
1. We can provide free samples and customized services.
2. The high quality dry chives have certified Halal, Kosher, Organic, etc.
3. More than ten years of production and sales experience with perfect after-sales service system
4. Sufficient reserves & stable prices & support for bulk orders
Dried chives are a nutrient-dense ingredient rich in vitamins, minerals, fiber and antioxidants. Not only does it bring a unique flavor to dishes, but it also helps maintain good health.
1. Dried chives are rich in dietary fiber and help promote good digestive health.
2. The antioxidants in dried chives help neutralize free radicals in the body and reduce oxidative stress.
3. Dried chives provide rich flavor but are relatively low in calories.
Fitaky have more than 100 kinds of dehydrated vegetables, such as the bulk dried shiitake mushrooms, dried spinach, dried cababge, etc. And the supply is sufficient, please feel free to consult.
Package of the dried chives
1. Inner packing: Double polybags

2. Outer packing: Paper carton with customized label
Load of the dried chives
If packing in 20kg/carton, one 20ft container can load 8.5 mts, one 40ft container can load 16 mts