Organic dehydrated bok choy are made by drying fresh green vegetables in a professional equipment. With an annual output of up to 20,000 tons, we are committed to providing a large number of healthy and safe dehydrated vegetables to global customers.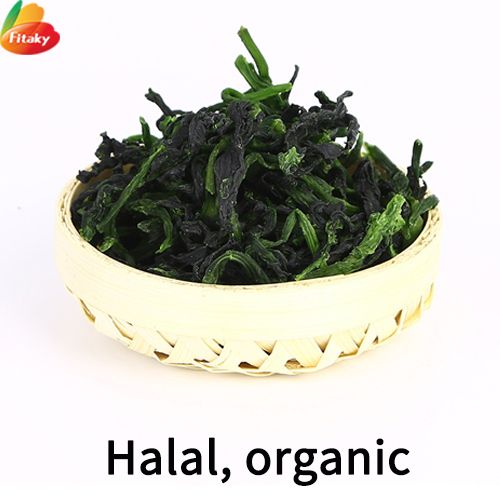 So far, our halal dehydrated bok choy flakes have been exported to Korea, Singapore, Malaysia, Ireland, Vietnam, Canada and other countries and have been well received.
More inforamtion about the dehydrated bok choy flakes
1. Sufficient and stable supply, global supply
2. Low moisture content and long shelf life
3. No pesticide residues and food additives
4. Shelf life: 24 months
5. Halal, Kosher certified
6. Free samples & support customization(packaging and size)
Fitaky not only offer dehydrated bok choy flakes, but also dehydrated mixed vegetables, dehydrated carrot granules, dehydrated mushrooms, etc.
If you are interested in the dehydrated bok choy, and wanna know the dehydrated bok choy price, please contact me freely to request a free sample.
Email: polly@machinehall.com
Whats app: +86 18538192032
Package of the dehydrated bok choy flakes
Bulk package: 1Kg, 3Kg, 5Kg, 10Kg, 15Kg, 20Kg/carton
Small package: 20-1000g/poly bag or vacuum pack
As per customer's requirements.
Load of the dehydrated bok choy flakes
If packing in 20kg/carton, one 20ft reefer container can load 10 mts, one 40ft reefer container can load 25 mts.