Dehydrated spinach, as an important convenience food ingredient, is widely used in our lives. At the same time, our dehydrated spinach leaves have been exported to more than 90 countries, and the supply is sufficient and stable.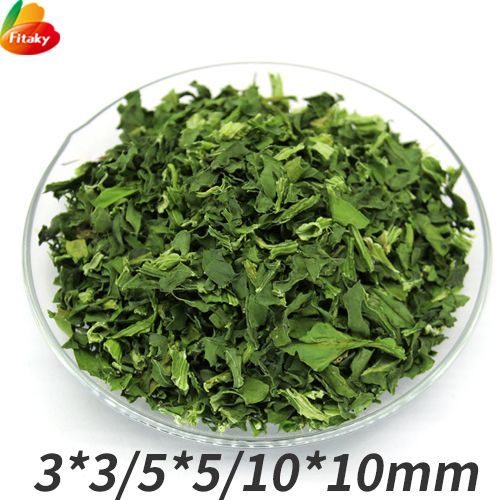 More information about the dehydrated spinach leaves
1. provide free samples & Support for custom products and custom packaging
2. 100% factory price
3. certified Halal, Kosher, Organic, etc.
4. Non-GMO and no additives, suitable for vegetarians
5. Dehydrated spinach leaves are rich in vitamin A, vitamin C and minerals, especially the content of vitamin A and vitamin C is the crown of all vegetables.
6. Dehydrated spinach flakes contain a lot of beta carotene and iron, and it is also an excellent source of vitamin B6, folic acid, iron and potassium.
7. Dried Spinach contains a lot of antioxidants such as vitamin E and selenium, which has anti-aging and promoting cell proliferation.
As the dehydrated vegetable manufacturer, we have more than 100 kinds of high quality dehydrated vegetables, such as dehydrated carrots, dehydrated mushrooms, dehydrated cabbage, dehydrated chives, dehydrated mixed vegetables, etc.
Friends who are interested in dehydrated vegetables are welcome to consult at any time.
Package of the dehydrated spinach
Bulk package: 1Kg, 3Kg, 5Kg, 10Kg, 15Kg, 20Kg/carton
Small package: 20-1000g/poly bag or vacuum pack, as per customer's requirements.
Load of the dehydrated spinach leaves
If packing in 20kg/carton, one 20ft container can load 10 mts, one 40ft container can load 25 mts