Organic dehydrated mixed vegetables with the Halal certification are made from all kinds of fresh vegetables by professional equipment, mainly including fungus and algae, beans, celery, green peppers, cucumbers, etc. Premium Dehydrated mixed vegetables retain the color, taste and nutrients of fresh mixed vegetables, but are easier to carry and store than fresh mixed vegetables.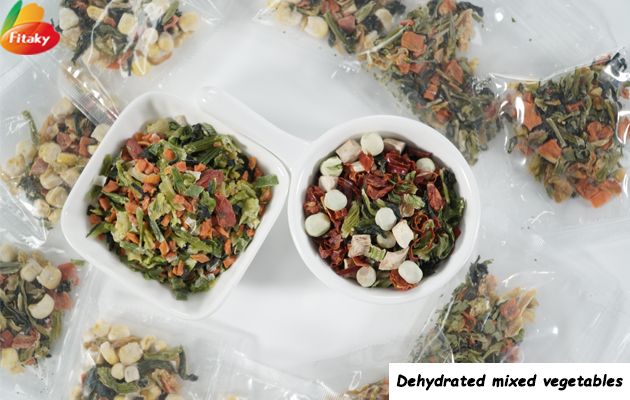 Free samples & support customization & Halal certification
The our high quality dehydrated mix vegetable is also vegan, gluten free, Kosher, MSG and additive free, non-GMO, and all natural, which can be used to make instant noodle seasoning packets, instant dehydrated mixed vegetable soup, porridge, etc. It is easy to use and has a wide range of uses.
At present, the premium dehydrated mixed vegetables purchased by our customers in Malaysia, Singapore and other places are mainly used for the seasoning package of instant noodles, dehydrated mixed vegetable soup and the processing of instant products.
More information about the high quality dehydrated mixed vegetable
1.Small in size, light in weight, it will be restored after entering the water, and it is easy to transport
2. Low moisture, long shelf life
3. Dehydration process, bright color and delicious taste
4. Packing according to customer needs, allocating the proportion of vegetables
5. Obtained ISO9001, FSSC22000, kosher, halal, USDA, BRC, SC certification, etc.
6. For food processing generation and distribution
So far, as the professional dehydrated vegetables manufacturer and supplier, we provide more than 100 kinds of dehydrated vegetables, such as dehydrated potato cubes, dehydrated carrot, dehydrated cabbage, etc.,with ariety of varieties, long-term stable supply.
Friends who are interested in dehydrated vegetables are welcome to consult at any time.
Packing of the dehydrated mixed vegetables
Bulk package: 1Kg, 3Kg, 5Kg, 10Kg, 15Kg, 20Kg/carton
Small package: 20-1000g/poly bag or vacuum pack, as per customer's requirements.
Load of the dehydrated mixed vegetables
If packing in 20kg/carton, one 20ft reefer container can load 8 mts, one 40ft reefer container can load 16 mts