Organic dried mixed vegetables with the Halal certification are made from all kinds of fresh vegetables by professional vegetable drying equipment, mainly including fungus and algae, beans, celery, green peppers, cucumbers, etc. Premium dehydrated mixed vegetables retain the color, taste and nutrients of fresh mixed vegetables, but are easier to carry and store than fresh mixed vegetables.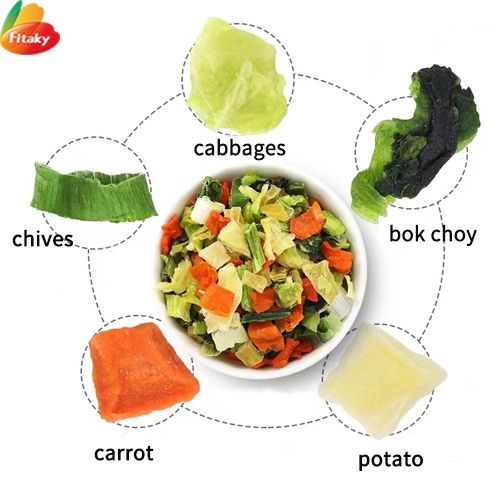 Free samples & support customization & Halal certification
Three major application markets of high-quality dehydrated mixed vegetable flakes:
1. Food industry raw materials or ingredients market, such as vegetable seasoning packets in instant noodles, etc.
2. Condiment market, such as chili flakes, onion flakes, etc.
3. Special markets as fresh vegetable substitutes.
Compared with single dehydrated vegetable flakes, dehydrated mixed vegetable flakes contain more types of vegetables and are more nutritious. At the same time, the dehydrated mixed vegetable flakes have been cut and processed, and the dried mixed vegetable flakes can be directly put into the recipe for processing, saving time and energy.
Fitakyfood.com has more than ten years of experience in the production and processing of dehydrated vegetables, and currently provides more than 100 kinds of dehydrated vegetable flakes, such as dehydrated potato cubes, dehydrated carrot, dehydrated cabbage, etc.,with ariety of varieties, long-term stable supply.
Friends who are interested in the dried mixed vegetables are welcome to consult at any time.
Packing of the dehydrated mixed vegetables
Bulk package: 1Kg, 3Kg, 5Kg, 10Kg, 15Kg, 20Kg/carton
Small package: 20-1000g/poly bag or vacuum pack, as per customer's requirements.
Load of the dehydrated mixed vegetables
If packing in 20kg/carton, one 20ft reefer container can load 8 mts, one 40ft reefer container can load 16 mts