Organic dehydrated potatoes are dehydrated vegetables made of fresh potatoes,without pesticide residues, presercatives and Non-GMO. The size of dehydrated potatoes can be customized as 3*3mm, 5*5mm, 8*8mm, etc. Dehydrated potatoes are an important food raw material and are widely used in food processing and manufacturing.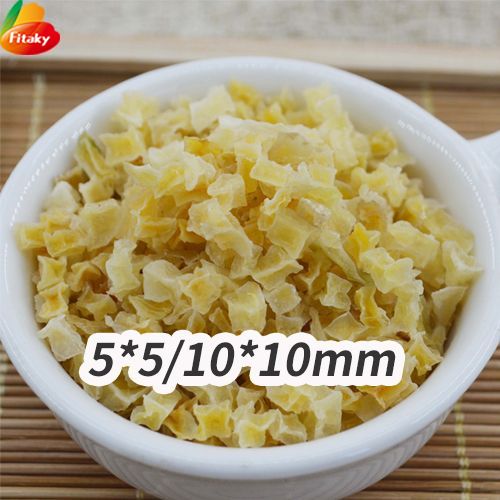 Fitakyfood.com can also provide dehydrated potato slices, dehydrated potato shreds, etc. according to customer needs.
More information about the organic dehydrated potatoes
1. Factory provides free dried potato cubes samples & Customized packaging and Labeling.
2. The dehydrated potatoes have certified Halal, Kosher, organic, Brc, FDA, etc.
3. Non-GMO, no food additives, no presercatives. 100% natural and healthy.
4. Support customization & OEM services.
5. Factory direct supply, guaranteed quality, fast delivery, best price!
As the professional dehydrated vegetables manufacturer, we have more than 100 kinds of dehydrated vegetables for sale, such as dehydrated potato chips, freeze dried potato chips, sweet potato flour and other different forms of dehydrated potato products with high quality.
Customers who are interested in dehydrated potatoes are welcome to consult at any time.
Packing of the dehydrated potato cubes

1kg/2kg/5kg/10kg/Foil bag; 20kg/carton
as customer's requirement
Load of the dehydrated potato cubes
If packing in 20kg/carton, one 20ft container can load 8mts, one 40ft container can load 16 mts