Tomato powder is refined from selected high-quality tomatoes through spray drying technology. It is rich in lycopene, plant fiber, organic acids and minerals. It is suitable for various condiments and can improve the flavor, color and nutritional value of food, is a traditional food seasoning. In addition, we also support the customization of compound seasonings with different flavors.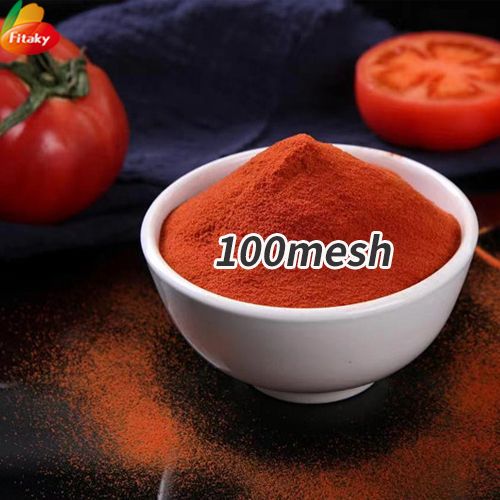 The high quality tomato powder is mainly used for making different concentrations of tomato juice and tomato soup, etc. In addition, tomato powder can also be used directly as an ingredient in convenience foods, snack foods, and premixes such as soups sauces, spice, seasoning to increase tomato flavor in foods.
Features of Organic Tomato Powder from Fitakyfood.com
1. Provide three types of freeze-dried tomato powder, dried tomato powder, and spray-dried tomato powder
2. Tomato powder has passed ISO9001, HACCP, BRC, HALAL, BRC, FDA, ORGANIC and other product certifications.
3. Tomato powder is bright in color, rich in tomato flavor, and widely used.
4. Supports customization of compound seasonings with various tomato flavors.
As the fruit and vegetable powder manufacturer, we have more than 70 vegetable powder, such as carrot powder, purple yam powder, pumpkin powder, etc. If you need, we can support customization and provide the free tomato powder sample for you. Welcome to consult at any time.