Organic kale powder is made of high-quality fresh kale. As a popular food in the world, it has always occupied an important position on the dining table of various countries, and has been highly praised by many supermodels, nutritionists, and fitness experts. Well-prepared superfoods.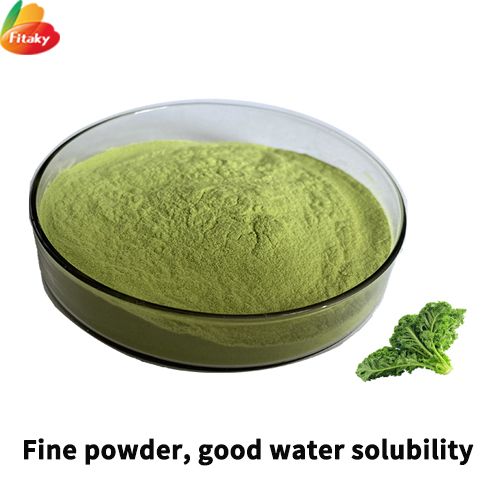 More information about the pure kale powder

1. Provide free pure kale powder samples & Customized on customer's demand
2. Green Superfood & No Food Additives & Non-GMO
3. The organic kale powder has certified Halal, Kosher, Organic, etc.
4. Factory direct supply, price concessions.
5. Shelf life: 24 months
The applications of the versatile kale powder
Ingredients for food and beverages.
Ingredients for healthy products.
Composition of health food and nutritional supplements.
Raw materials for the pharmaceutical industry and general medicines.
Cosmetic ingredients.
Fitaky provides more than 100 kinds of fruit and vegetables, such as barley grass powder, lemon powder, tomato powder and more.
Friends who are interested in fruit and vegetable powder are welcome to consult at any time.
Packing of the kale powder
1. 1 kilogram per aluminum foil bag with one plastic-bags inside;
2. 25 kilograms per cardboard barrel with one plastic-bags inside;
3. Packaging as the customers' requirements.
Load of the kale powder
If packing in 20kg/carton, one 20ft container can load 14 mts, one 40ft container can load 22 mts