Lemon powder is a dehydrated form of lemon juice. It is made by taking fresh lemon juice and then removing the water content through a process of evaporation or spray drying. The resulting powder has a tangy, citrus flavor and can be used as a flavoring agent in various food and beverage products. The pure lemon powder not only has edible value, but also can be used in cosmetics, health care products, etc.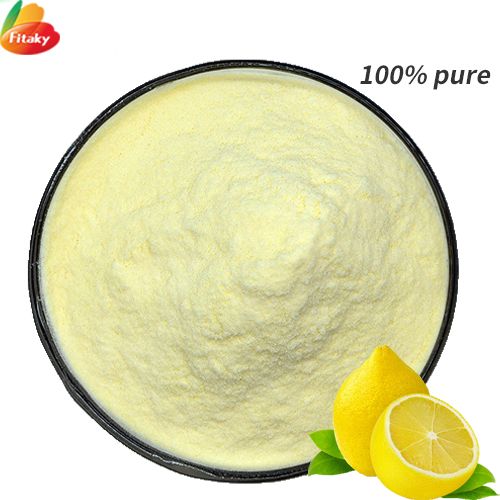 Lemon juice powder is a convenient alternative to fresh lemon juice, as it has a longer shelf life and can be easily stored and transported. It is also more consistent in flavor and acidity than fresh lemon juice, making it a popular ingredient in the food and beverage industry.
More information about the pure lemon powder
1. The lemon powder without food additives and preservatives, 100% pure.
2. The Non-GMO lemon powder has certified ISO900, HACCP, HALAL, BRC, FDA, ORGANIC, etc.
3. 100% factory price & fast delivery
4. Three processing methods of lemon powder: Freeze dried, air dried and spray dried available
5. The manufacturer provides free lemon powder samples and customized services.
As the professional fruit and vegetable powder manufacturer, we have more than 100 kinds of fruit and vegetable powder, such as dragon fruit powder, tomato powder, strawberry powder, apple powder, banana powder, mushroom powder, etc.
Friends who are interested in fruit and vegetable powder are welcome to consult.
Packing of the lemon powder
1kg/Foil bag, 2kg/Foil bag, 2.5kg/Foil bag or as your require
20kg/carton
Load of the lemon powder
If packing in 20kg/carton, one 20ft container can load 14 mts, one 40ft container can load 22 mts.