Fitaky Spinach Powder is made from organic spinach milled, bright in color and rich in nutrition. it is a high-quality natural pigment.
Spinach powder is not only a food raw material, but also an important raw material for nutritional supplements, which can be widely used in making soup, porridge, bread, noodles, steamed buns, baking, seasoning, salad, nutritional supplements, etc. It can also increase the flavor and taste of the product itself.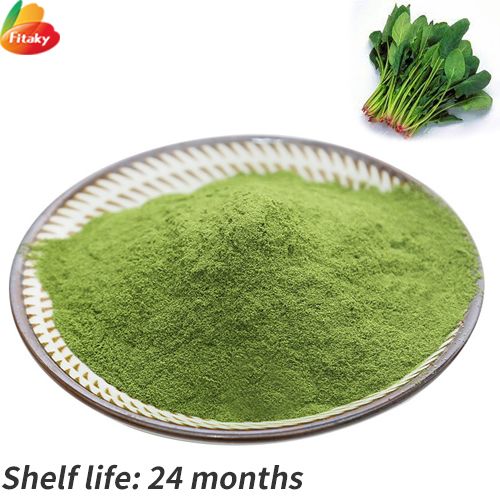 The spinach powder of Fitakyfood.com mainly has the following three processing methods:
air-dried spinach powder, spray-dried spinach powder and the freeze-dried spinach powder.
Among them, spray-dried spinach powder has good water solubility and brighter color.
As a professional vegetable powder manufacturer, we support the processing method, fineness and packaging of customized spinach powder. What's more, we can provide free samples for customers to test products.
Nowadays, Fitakyfood.com provides more than 80 kinds of vegetable powder for sale, such as cabbage powder, kale powder, barley grass powder, lemon powder, tomato powder, mushroom powder, etc.
Packing of the spinach powder
1)1kg/aluminium foil bag, with two plastic bags inside.
2) 25kg/fiber drum, with two plastic bags inside.
As customer's requirement
Load of the spinach powder
If packing in 20kg/carton, one 20ft container can load 14 mts, one 40ft container can load 22 mts