Fitaky Spinach Powder is made from organic spinach milled. Spinach powder can be mixed into green drinks, smoothies, soups, spice mixes and sauces.

While spinach is often considered a food product, it can also be used for its nutritional properties. It is an excellent source of vitamins, minerals and antioxidants. Spinach chips can be added to smoothies, fries, soups, casseroles, salad dressings, or other dishes.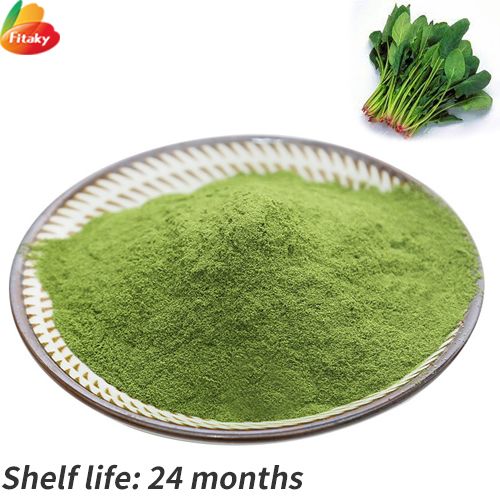 More information about the high quality spinach powde
1. green superfood, Non-GMO, Vegetarian Friendly. No food additives and preservatives.
2. Provide free samples & custom products and packaging
3. Halal, Kosher, Organic and more certified
4. 100% factory price & fast delivery
5. Fine powder, good water solubility
6. Support for bulk orders
We have more than 80 kinds of vegetable powder for sale, such as cabbage powder, kale powder, barley grass powder, lemon powder, tomato powder, mushroom powder, etc.
Interested friends are welcome to consult at any time.
Packing of the spinach powder
1)1kg/aluminium foil bag, with two plastic bags inside.
2) 25kg/fiber drum, with two plastic bags inside.
As customer's requirement
Load of the spinach powder
If packing in 20kg/carton, one 20ft container can load 14 mts, one 40ft container can load 22 mts