Pumpkin powder is made from fresh pumpkin pulp (without seeds and skin). Quality guaranteed. The pure pumpkin flour is not only rich in protein, dietary fiber, vitamins, and other nutrients, but also has a bright color and is a pure natural pigment that is healthy and safe.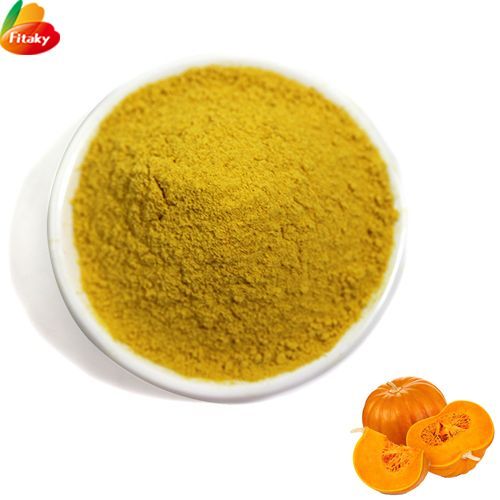 The organic pumpkin powder is mainly divided into air-drying, freeze-drying and spray-drying processing methods. Among them, spray-dried pumpkin powder has the best water solubility.
Henan Fitaky Food Co., Ltd, as the pumpkin powder supplier and manufacturer in China, has rofessional aseptic production workshop, standard production process to ensure that the quality requirements of customers can be met. Besides, our factory has passed ISO9001, HACCP, HALAL, BRC, FDA, ORGANIC, Brc and many other food safety certifications.
The applications of the hot sale pumpkin powder
The organic pumpkin flour is widely used in natural health nutritional products, functional foods, beverages, high-grade pasta and meat food additives, fortifiers, and can also be used in high grade cosmetics special additives and pharmaceutical raw materials.
Welcome to consult at any time!
Packing of the pumpkin powder
1kg/Foil bag, 2kg/Foil bag, 10kg/Foil bag
2*10kg/carton
Load of the pumpkin powder
If packing in 20kg/carton, one 20ft container can load 14 mts, one 40ft container can load 22 mts