Premium kiwi powder is made of high quality kiwi, processed and ground, which greatly retains the nutrients of kiwi, while retaining the original flavor and nutrition of kiwi. 100% pure powder is safer and healthier to eat or use.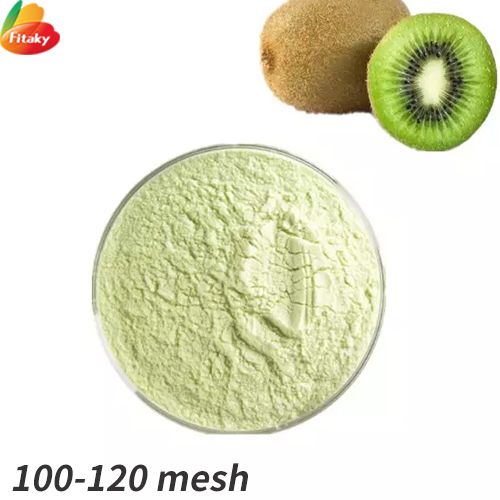 Pure kiwi fruit powder can be widely used in health care products, healthy nutrition products, infant food, solid beverages, dairy products, instant food, puffed food, condiments, middle-aged and elderly food, baked food, snack food, cold food and cold drinks, etc.
Benefits of the pure kiwi powder
1. Kiwi fruit can promote metabolism, coordinate physical functions, enhance physical fitness, and delay aging.
2. The dietary fiber in kiwi can lower cholesterol and help digestion.
3. Provide free samples & support customization (packaging and logo)
4. No pesticide and heavy metal residues
5. 100% pure and no food additices
6. 100% factory price
As the professional fruit powder supplier and manufacturer, we have more than 50 kinds of fruit powder, such as peach powder, lemon powder, apple powder, strawberry powder, etc.
Interested friends are welcome to consult at any time.
Packing of the kiwi powder
Sample: inner double PE bag outer aluminum foil bag
Lower 25kg: inner PE bag + aluminum foil bag, outer carton
Over 25kg: PE bag inside and outside the drum
Load of the kiwi powder
If packing in 20kg/carton, one 20ft container can load 14 mts, one 40ft container can load 22 mts