Pure carrot powder, orange powder in appearance, fine powder, no agglomeration, no additives, no pigments, no flavors, no anti-caking agents, is a healthy natural food.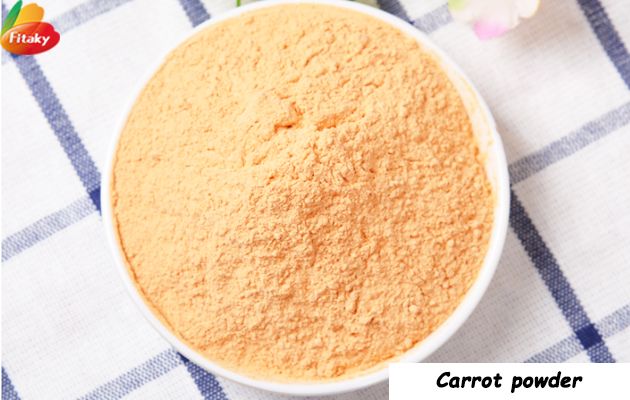 The pure carrot powder can be applied to medicine and health care products, health nutrition products, infant food, solid beverage, dairy products, convenience food, puffed food, seasoning, middle-aged and elderly food, baked food, snack food, cold food and cold drink, etc.
Edible effects of carrot powder for sale
1. Carrot powder contains a lot of carotene, which can nourish the liver and improve eyesight, and can treat night blindness.
2. Carrot powder contains plant fiber, which can strengthen the peristalsis of the intestines, thereby sharpening the diaphragm and widening the intestines.
4. Carotene is converted into vitamin A, which helps to enhance the body's immune function.
5. Carrot powder also contains hypoglycemic substances, which is a good food for diabetics.
As the professional fruit and vegetable powder supplier, Fitakyfood.com offers more than 100 kinds of high quality vegetable powder, such as mushroom powder, carrot powder, spinach powder, pumpkin powder, etc.
We support customized product specifications, packaging and OEM. Welcome friends who are interested in carrot powder to consult at any time.
Packing of the carrot powder
1/kg double layer plastic bags inside and aluminum foil bag outside
25/kg paper drum and two plastic bags inside
or according to customer's need
Load of the carrot powder
If packing in 20kg/carton, one 20ft container can load 14 mts, one 40ft container can load 22 mts.