Cauliflower powder is a powdered vegetable particle made from fresh cauliflower that is first dried and dehydrated, and then further crushed. Vegetable powder can be applied to almost all fields of food processing, and is an excellent raw material for processing vegetable bread, vegetable noodles, vegetable biscuits, specialty foods, etc. At the same time, it can also improve the nutritional content of food, and improve its color and flavor, and can replace the use of artificial colors in today's society.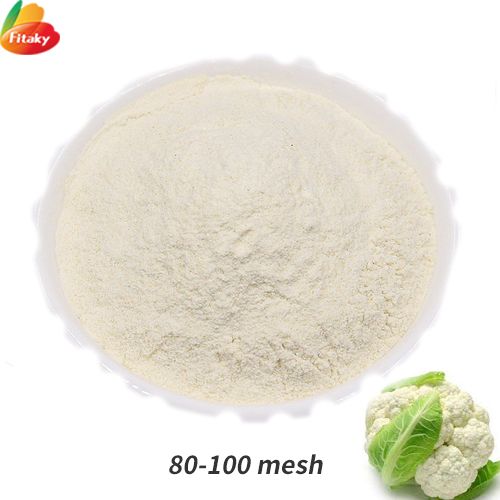 More information about the cauliflower powder

1. Factory provides free samples for customers
2. Long shelf life, not easy to agglomerate
3. The factory supports customized cauliflower powder specifications, packaging and labels, etc., providing great convenience for customers for distribution.
4. The cauliflower powder is 100% natural & healthy, no pesticide and heavy metal residues.
5. Factory direct sales, no middlemen to earn the price difference, and give customers the most competitive price.
As a professional fruit and vegetable powder manufacturer and exporter, we have more than 100 kinds of fruit and vegetable powder, such as spinach powder, pumpkin powder, lemon powder, mushroom powder, dragon fruit powder, etc. According to the different uses of customers, we also have different processing methods, such as freeze drying, spray drying, hot air drying, etc. Wide variety and sufficient supply
Customers who are interested in fruit and vegetable powder are welcome to consult at any time.