As a super green food, barley grass powder is rich in nutrients such as vitamins, minerals and protein, and also rich in chlorophyll and dietary fiber. It is a very popular green food in modern society.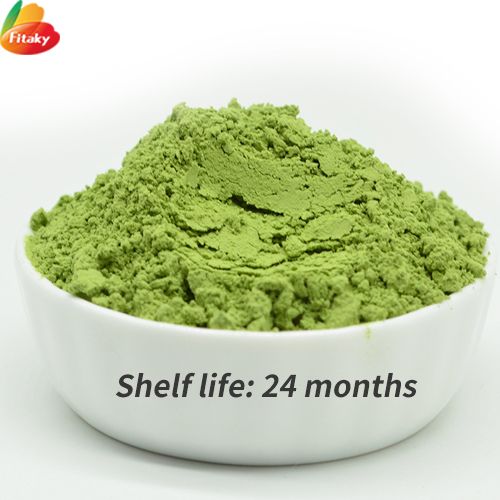 At present, many organic diet, weight loss, and vegetarian groups like to drink barley grass powder directly with water. The high-quality barley grass powder is selected from the raw materials of young barley seedlings of 20-40 cm that grow soon after overwintering, and is freeze-dried, pulverized and ground.
More information about the high quality barley grass powder
1. Powerful Antioxidant Properties
2. Green Superfood, No Pesticide Residues, Non-GMO
3. Good plant source of calcium, iron, magnesium and other essential minerals
4. Rich dietary fiber, strong satiety, is the choice for weight loss
5. Sufficient and stable supply
6. Free samples and customized service
7. 100% factory price
Fitaky offers a variety of green superfood including spinach powder, broccoli powder, kale powder and more.
Friends who are interested in the green superfood are welcome to consult at any time.
Packing of the barley grass powder
1)25 kg packaging
Inside: Double sterile bag
Outside: Cardboard bucket
2) 1to 5 kg packaging
Inside: Ziplock bag
Outside: Aluminum foil bag
Load of the barley grass powder
If packing in 20kg/carton, one 20ft container can load 12 mts, one 40ft container can load 20mts.