Broccoli powder is rich in nutrients, including protein, sugar, fat, vitamins and carotene, etc. The nutritional content of the broccoli powder ranks first among similar vegetable powders. Besides, we also produce large quantity kale powder, barley grass powder, spinach powder, etc.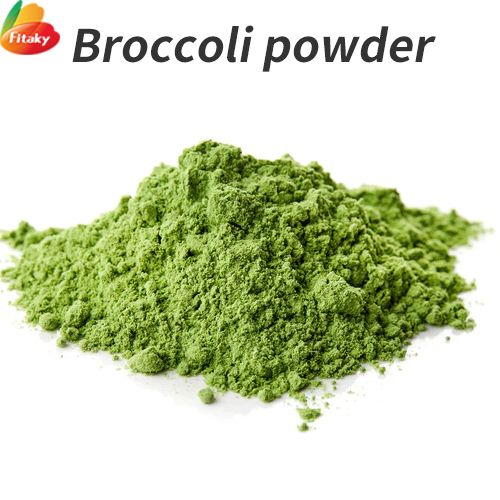 Broccoli powder is 100% pure, without any additives and preservatives. At the same time, broccoli powder is low in calories and rich in dietary fiber, which can increase the feeling of satiety and is not easy to gain weight. It is suitable for fitness and dieters.
We can provide the free broccoli powder samples and support customization.
Applications of the organic broccoli powder
Broccoli powder can be used in making soup, porridge, bread, noodles, steamed buns, cookies, seasonings, salads, nutritional supplements, etc. It can also increase the flavor and taste of the product itself. Broccoli powder can also be added to the baby's complementary food or milk powder, so that the baby can eat nutrition and health easily!
Fitakyfood.com, as the professional vegetable powder manufacturer and supplier, we have a factory testing laboratory + a third-party testing laboratory to ensure that the quality of each batch meets the pesticide and heavy metal residue standards of the European Union, Canada, the United States, and Japan. Secondly, we have wadvanced production equipment, fully automatic closed modern production line to ensure the production environment of broccoli powder.
If you are interested in the organic broccoli powder, welcome to consult at any time!