What Is Strawberry Powder Used For?
Many people like strawberry-flavored food, such as strawberry-flavored ice cream, strawberry-flavored bread, strawberry-flavored milk, strawberry-flavored candy, etc. So do you know why they taste strawberry?
The answer is to add strawberry powder.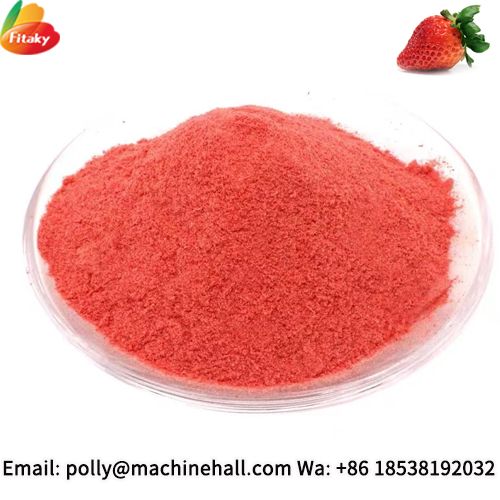 Strawberry powder is selected from domestic pollution-free strawberries as raw materials, and is instantly smashed by vacuum freeze-drying technology and low-temperature physical crushing technology. Strawberry powder maintains the original natural qualities of various nutritional, health-care ingredients and raw materials of strawberries. This product has the taste and smell of pure strawberries. It is widely used in processing various strawberry-flavored foods and added to various nutritional foods to strengthen Its nutritional health care effect, and give all kinds of food natural strawberry color and unique strawberry flavor.
Strawberry traits
The unique red powder of strawberry, the particles are uniform and fine, the elegant strawberry aroma, and the taste is mellow.
Production process of strawberry powder
High-quality strawberries - impurity cleaning - sterilization - freeze-drying - low temperature crushing - strawberry Titian - flavor trimming - precision screening - 100 bamboo strawberry powder.
range of strawberry powder
a) Baked goods: strawberry bread, cakes, strawberry fillings, jams, moon cakes, biscuits, potato chips, various pastries.
b) Health and leisure food: health products, ice cream, candy, chocolate, buccal tablets, chewing gum, milk tea, etc.
c) Beverages and foods: yogurt, milk beverages, noodles, flavored soy milk, strawberry solid beverages.
d) Daily chemical and pharmaceutical industry: skin care products, beauty products, cosmetic products, tablets, capsules, granules.
Storage conditions of strawberry powder: it is better to store in a cool, dry and low temperature.
Fitaky provides more than 100 kinds of fruit and vegetable powder, such as strawberry powder, mango powder, apple powder, banana powder, mushroom powder, etc. The supply is sufficient and stable. Friends who are interested in fruit and vegetable powder are welcome to consult at any time.
Email: polly@machinehall.com
Whats app: +86 18538192032
Website: https://www.fitakyfood.com/product/strawberry-powder.html