Dehydrated Vegetables For Instant Noodles Or Instant Soups
Fitakyfood.com has more than ten years of production and sales experience in the field of dehydrated vegetables. It has three dehydrated vegetable production lines with a daily output of 50 tons of various dehydrated vegetables, and the supply is sufficient and stable. At present, the vegetable seasoning packs for instant noodles or instant soup mainly have the following recipes to choose from, and the factory also supports customizing products, packaging, labels, etc. according to customers' samples.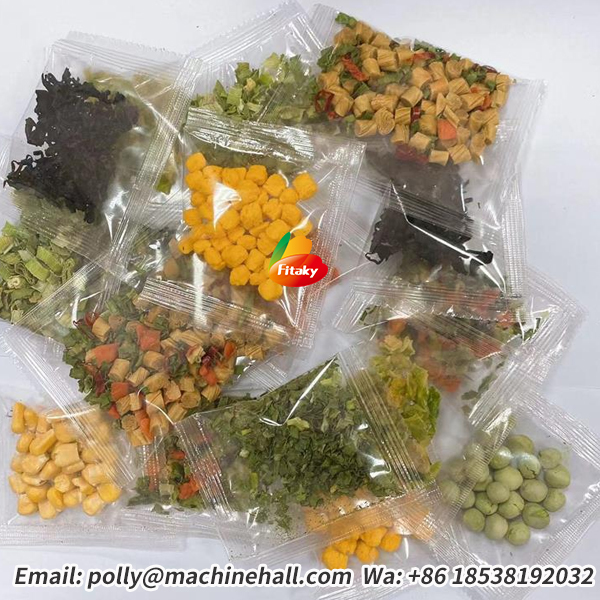 Here are several dehydrated vegetable packet recipes that can be used in instant noodles or instant soups
① Chinese style 1: Dehydrated diced carrot, cabbage, spring onion, green stalks, wolfberry, sesame
② Chinese style 2: Dehydrated diced carrots, cabbage, shallots, green stalks, freeze-dried corn kernels, egg dices
③Korean style 1: dehydrated kimchi, dehydrated carrots, shallots, chili rings
④ Japanese style 1: dehydrated cabbage, egg dices, dehydrated shallots, dehydrated carrots, dehydrated squid slices, dehydrated fish imitation crab
⑤ Thai Style 1: Mushroom slices, chili rings, shrimp, seaweed slices
The basic raw materials of the instant noodle vegetable packets mainly include: dehydrated diced carrots, cabbage, green onions, green vegetables (green stems, evergreens, etc.), pepper rings, freeze-dried corn kernels, egg granules, dried bacteria (mushroom slices, bisporus slices), dehydrated pickles (spicy cabbage )
Extended ingredients include: dehydrated celery, parsley, broccoli, soy products (bean sticks, tofu skin, freeze-dried tofu), wolfberry, sesame, peanuts, freeze-dried meat products (chicken cubes, beef cubes), freeze-dried seafood Products (shrimp, squid, crab sticks)
Fitaky's customized dehydrated vegetable packets have been exported to more than 30 countries including Singapore, the United States, Canada, Fiji, Germany, South Korea, and Japan.
Welcome friends who are interested in instant noodle vegetable packets /instant soup vegetable package to consult at any time!
Email: polly@machinehall.com
Whatsapp: +86 18538192032
Website: https://www.fitakyfood.com/product/dehydrated-vegetables.html