Dried shiitake mushroom cubes are made from high quality fresh shiitake mushrooms. They are uniform in size, rich in fragrance and rich in nutrition. They are an important raw material for mushroom soup.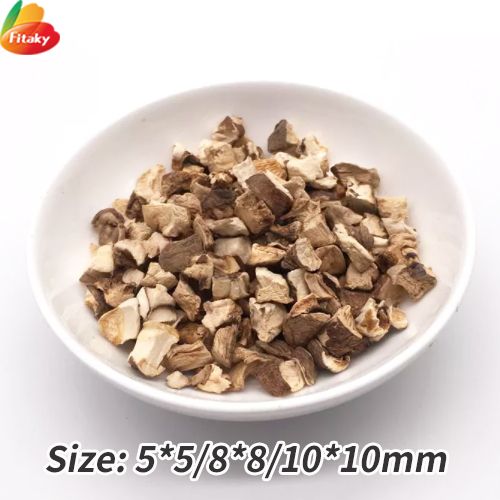 As the reliable dried mushroom cubes manufacturer and supplier, we have produce dried shiitake mushroom cubes for more than 10 years. And our products have certified Halal, organic,etc. So far, the high quality dehydrated shiitake mushroom cubes has been sold to 99+ countries for food production or resale.
How to store the dried shiitake mushroom cubes?
First, we can seal or vacuum pack the dehydrated shiitake mushroom cubes to avoid moisture. Second, light, humidity and temperature can easily deteriorate dehydrated vegetables, so they should be placed in a dry and cool place. Third, storing dehydrated mushrooms in a refrigerator can extend the shelf life.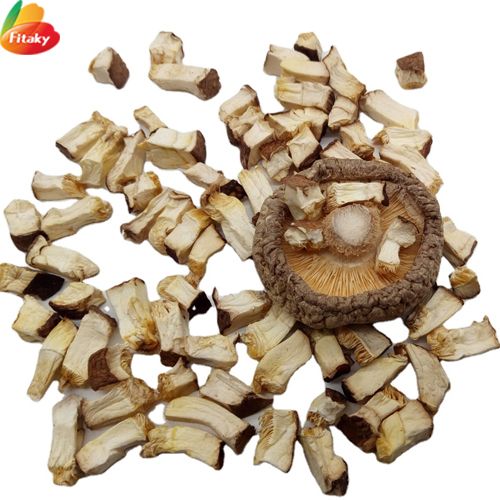 Applications of the dried shiitake mushroom cubes
Dehydrated shiitake mushroom cubes can be used in instant noodle vegetable buns, dumpling fillings, vegetable soups, fried rice, stir-fried vegetables, etc. It is widely used and rich in nutrition. Besides, we also have the dehydrated boletus, dehydrated black fungus, dehydrated Agaricus bisporus, dehydrated mushroom, dehydrated enoki mushroom, etc.
Packing of the dried shiitake mushroom cubes
1kg, 2kg, 5kg/Foil bag
20kg/carton or as your requirement; Outer carton + inner plastic bag (aluminum foil bag)
Load of the dried shiitake mushroom cubes
If packing in 20kg/carton, one 20ft container can load 14 mts, one 40ft container can load 22 mts.