Dehydrated shiitake mushroom cubes are made from high quality dehydrated shiitake mushrooms. They are uniform in size, rich in fragrance and rich in nutrition. They are an important raw material for mushroom soup.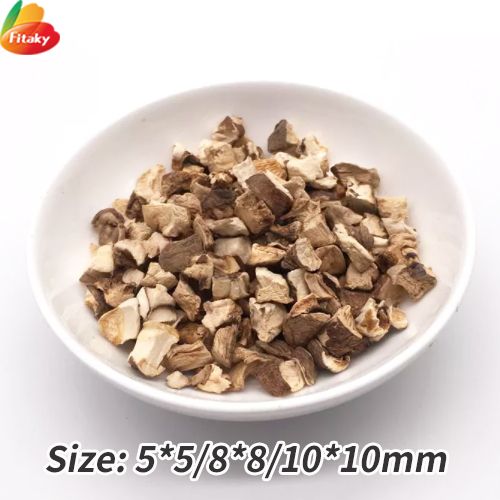 At present, our bulk dehydrated shiitake mushrooms with halal certification have been exported to Malaysia, Singapore, Korea, Indonesia, Japan and other countries, mainly for food production, restaurants, distribution stores, etc.
Benefits of the high quality dried shiitake mushroom cubes
1. Dehydrated shiitake mushrooms are rich in selenium, iron, dietary fiber, protein and vitamin C
2. Provide free samples & support customization
3. No pesticide residues and food additives
4. Fast rehydration and soft texture
5. Certified Halal, Organic, Kosher, FDA, BRC, etc.
6. Shelf life: 24 months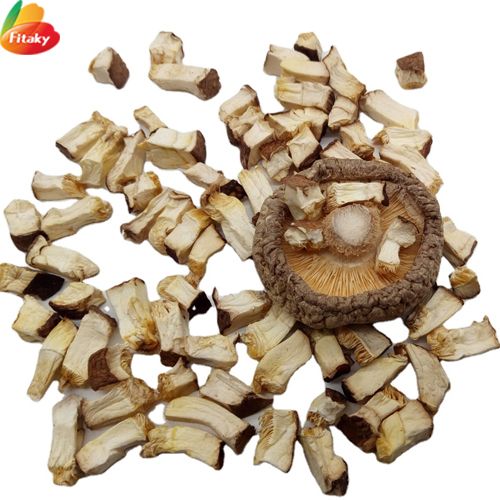 We supply dehydrated shiitake mushrooms of different specifications, such as 3*3mm, 5*5mm, 8*8mm and 10*10mm, etc. Customers can customize products of different specifications according to different needs.
In addition to dehydrated shiitake mushrooms, we also supply other dehydrated fungi, such as dehydrated morels, dehydrated black wood ear mushrooms, etc.
If you are interested in the dehydrated mushrooms, and wanna know the dried mushrooms price, contact me freely.
Email: polly@machinehall.com
Whats app: +86 18538192032
Packing of the dried shiitake mushroom cubes
1kg, 2kg, 5kg/Foil bag
20kg/carton or as your requirement; Outer carton + inner plastic bag (aluminum foil bag)
Load of the dried shiitake mushroom cubes
If packing in 20kg/carton, one 20ft container can load 14 mts, one 40ft container can load 22 mts.