Organried black fungus, also called dried wood ear mushrooms, is an ideal health food resource whether it is directly eaten or used as a food formula material. The surface of black fungus is dark brown, with a sense of brightness, and the back is dark gray.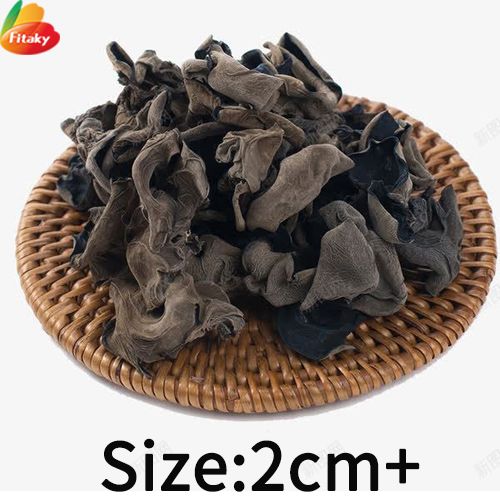 More information about the dried black fungus
1. The dried black fungus is non-GMO & additive free & natural, green, healthy.
2. The organic dried wood ear mushrooms have Certified Halal Kosher Organic, etc.
3. Fitakyfood.com provides free samples for customers to test product quality.
4. As a professional supplier of dehydrated mushrooms, we support customized mushroom types, mushroom specifications, packaging, labels, etc.
5. Fitakyfood.com has more than ten years of production and sales experience, and a perfect after-sales service system to ensure fast delivery and customer satisfaction.
Fitaky, as a professional dehydrated vegetable manufacturer, provides a variety of dehydrated mushroom products, such as dehydrated shiitake mushrooms, dehydrated porcini mushrooms, dehydrated Hericium erinaceus, dehydrated mushrooms, dehydrated enoki mushrooms, etc. The supply is sufficient and stable, and interested friends are welcome to consult at any time.
Packing of the dried black fungus
1kg/bag, 2kg/bag, 2.5kg/bag
20kg/carton
Load of the dried black fungus
If packing in 20kg/carton, one 20ft container can load 5 mts, one 40ft container can load 11 mts