Freeze dried diced chicken's biggest characteristic is to retain the color, fragrance, taste, shape of the product and the nutritional ingredients of the original ecological food. It is also known as aerospace food, which is today's natural, green, safe and convenient nutrition food.
The hot sale freeze dried diced chicken is suitable to be added to instant noodles, instant noodles, instant porridge, instant soup, mashed potatoes and other instant foods.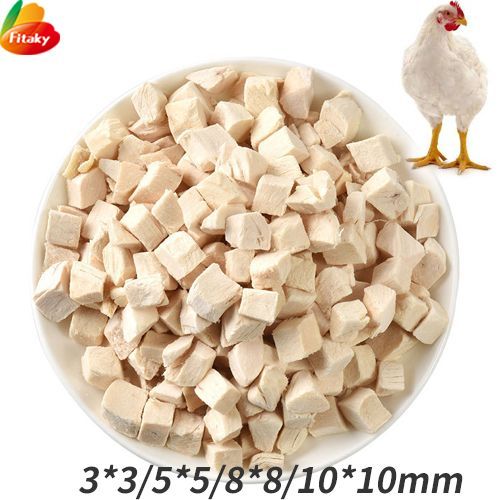 Benefit of the bulk freeze dried diced chicken
1. Chicken is higher in protein and lower in fat.
2. Chicken is also a good source of phosphorus, iron, copper and zinc, and is rich in vitamin B12, vitamin B6, vitamin A, vitamin D and vitamin K, etc.
3. the freeze dried diced chicken has been seasoned and processed by vacuum freeze-drying process. It is completely rehydrated within 3 minutes, and the taste is natural and authentic.
4. Specifications: 5*5*5MM, 6*6*6MM, 8*8*8MM, 6,60 mesh chicken powder, etc.
5. Provide free samples & support customization
As the professional freeze dried products manufacturer and supplier, we have bulk freeze dried diced chicken for sale. Besides, we also have freeze dried diced beef, freeze dried fruits, etc.
If you are interested in the freeze dried diced chicken and wanna know the freeze dried diced chicken price, contact me freely.
Email: polly@machinehall.com
Whatsapp: +86 18538192032
Packing of the freeze dried diced chicken
1kg/Foil bag, 2kg/Foil bag, 5kg/Foil bag
10kg/carton
As customer's requirement
Load of the freeze dried diced chicken
If packing in 10kg/carton, one 20ft container can load 8mts, one 40ft container can load 12 mts.