Organic freeze dried strawberry, fruit Queen, is made from fresh strawberry by freeze-drying technology. It is also known as aerospace food, which is today's natural, green, safe and convenient nutrition food.

GMO free freeze dried strawberries can not only be eaten directly as a daily snack, but also very suitable for eating with yogurt, oatmeal, salads and other foods.
We support OEM service (custom packaging, labels, specifications, etc.)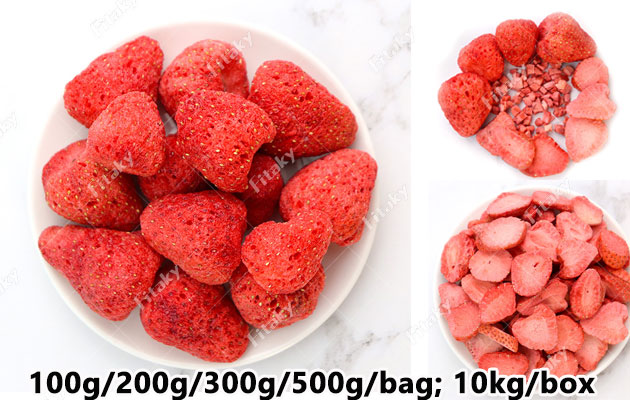 Regarding high quality strawberry products, we not only have whole freeze dried strawberries, but also chocolate coated freeze dried strawberry, organic freeze dried strawberry granules, freeze dried strawberry slices, pure freeze dried strawberry powder, etc., which can not only be eaten as snacks, but also used for beverage baking.
More information about the high quality freeze dried strawberry
1. 100% healthy, natural. No food additives and preservatives
2. Non-GMO, certified Halal, Kosher, Organic, etc.
3. Customization: product customization, packaging customization, OEM, etc.
4. Provide free samples & Support for bulk orders
5. 100% factory price & fast delivery
6. Certified Halal, Kosher Organic, Brc, etc.
So far, fitakyfood.com, the freeze dried strawberry supplier have more than 50 types of freeze-dried fruits, and the supply is sufficient and stable. Friends who are interested in freeze-dried fruits are welcome to consult at any time.