Freeze-dried apple slices are fresh apples that are instantly frozen at minus 30 degrees, which retains the original ingredients and nutrition of the apples. The taste is sweet and sour and crisp, without adding sugar, additives and preservatives. It is a freeze-dried fruit suitable for all ages snack.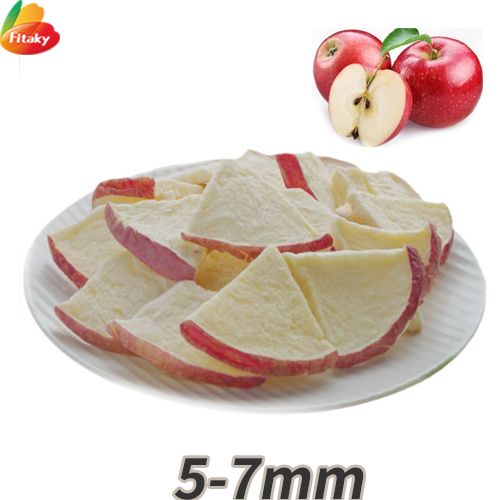 FD apples can be eaten on their own or in pies, oatmeal, granola, and yogurt. Each way of eating will bring you a different feeling!
About the freeze dried apples
1. Offer free freeze dried apple chips samples & Provide customized services(packaging, types, OEM, etc.)
2. Nutrients: FD apples are rich in vitamin C, fiber, and antioxidants that help maintain good health and boost immunity.
3. Taste and use: The taste of freeze dried apple chips is similar to that of fresh apples, but they are more crispy. They can be eaten directly as snacks or added to food to increase taste and nutrition.
4. Storage time: Compared with fresh apples, freeze dried apple slices have lower moisture content and can be stored at room 5. temperature for several months to a year.
5. Fitakyfood.com has more than ten years of production and export experience in the field of freeze-dried fruits and vegetables. Freeze-dried fruits and vegetables have been exported to more than 90 countries in Southeast Asia, Europe, and America.
Except the freeze dried apple slices, we still have more than 80 kinds of freeze dried fruits, such as the freeze dried dragon fruit, freeze dried strawberry, freeze dried pineapple, freeze dried lemon, etc.

Interested friends are welcome to consult at any time
Packing of the freeze dried apple slices
Small bags: 100g, 200g, 300g, 500g, 1kg, 2kg, 3kg, etc
Bulk packaging: 10kg per carton lined with double PE bags with carton outside
Load of the freeze dried apple slices
If packing in 10kg/carton, one 20ft container can load 3 mts, one 40ft container can load 5 mts