The hot sale freeze dried pineapple is a kind of popular snack at present. Bulk freeze dried pineapple retains the color, taste and shape of fresh pineapple, but has a better texture and a longer shelf life than fresh pineapple. Therefore, the hot sale freeze dried pineapaple is favored by more and more people.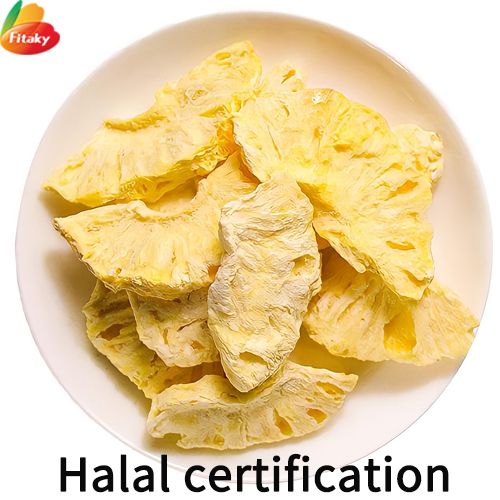 Detailed information about the freeze dried pineapple slices
1. Provide free samples & custom products and packaging
2. Nutrient retention reach more than 90%
3. Nono-GMO, Non Additive, No Preservatives
4. Certified ISO9001, ISO22000, HACCP, KOSHER, BRC, FAD, GMP,HALAL
5. 100% factory price & fast delivery
6. Perfect after-sales services
We not only have freeze dried pineapple pieces, but also bulk freeze dried pineapple granules, pure pineapple powder, etc. The products are rich in variety and comprehensive in nutrition. So far, we have more than 80 kinds of freeze dried fruit and vegetables, such as freeze dried apple slcies, freeze dried strawberry, freeze dried pineapples,etc.
Interested friends are welcome to consult at any time.
Packing of the freeze dried pineapple slices
Bulk package: Two PE bag inside, carton outside. 2kg*3/ctn , 5kg*1/ctn, 10kg*1/ctn
small package: 10g/bag, or 15g/bag, or 20g/bag, etc, as customers required with their own label.