High quality freeze dried carrot slices is made from fresh carrot by freeze-drying technology. Its biggest characteristic is to retain the color, fragrance, taste, shape of the product and the nutritional ingredients of the original ecological food. It is also known as aerospace food, which is today's natural, green, safe and convenient nutrition food.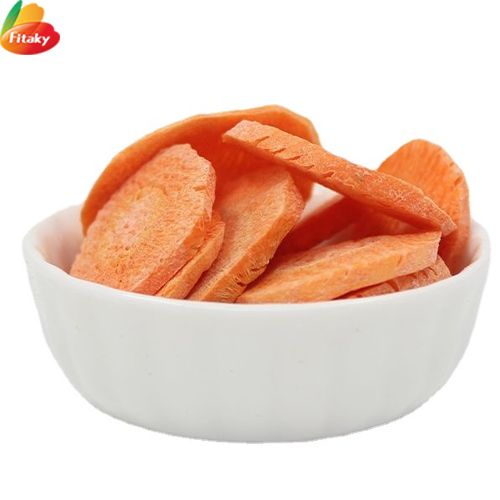 More information about the freeze dried carrot slices
1. Provide free samples & custom products and packaging
2. Certified Halal kosher Organic,etc.
3. Non-GMO & No Additives & No Preservatives
4. Support for bulk orders
5. Perfect after-sales service system
6. 100% factory price & fast delivery
Nowadays, fitaky have more than 100 kinds of freeze dried products for sale, such as freeze dried strawberry, freeze dried lemon slices, freeze dried mango, etc.
Welcome to consult at any time.
Packing of the freeze dried carrot slices
1kg/bag, 1.5kg/bag, 5kg/bag
10kg/carton
Load of the freeze dried carrot slices
If packing in 20kg/carton, one 20ft container can load 5 mts, one 40ft container can load 8 mts