Fitaky pineapple powder has fine powder, rich pineapple flavor and authentic color. At the same time, our pineapple powder is 100% pure, without any artificial coloring and food additives, healthy and safe.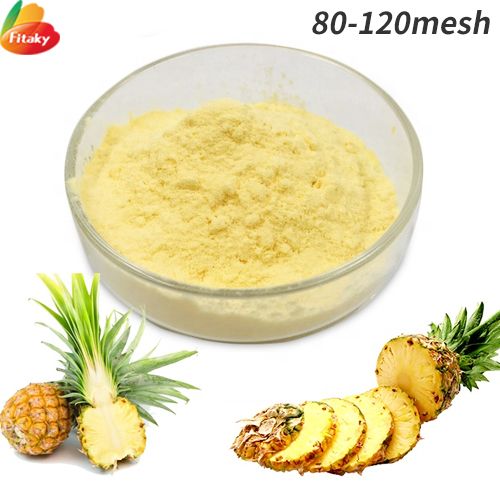 More information about the organic pineapple powder

1. Provide free samples & custom packaging and products
2. Non-GMO & No food Additives & No Artificial Colors
3. Certified Halal, Kosher, Organic, etc.
4. Sufficient reserves to support for bulk ordes
5. Perfect after-sales service system
6. 100% factory price & fast delivery
Fitaky, as the professional food manufacturer and supplier, we provide more than 100 kinds of fruit and vegetable powder, such as strawberry powder, kale powder, mushroom powder, mango powder, etc.
Fruit and vegetable powder is rich in variety and sufficient in quantity, welcome to consult at any time.
Package of the pineapple powder
25kg/drum (25kg net weight,28kg gross weight; Packed in a cardboard-drum with two plastic-bags inside. Drum Size: 510mm high, 350mm diameter) ; 1kg/bag (1kg net weight, 1.2kg gross)