Freeze dried peaches, also called FD Peaches, have no added sugar. It reflects the taste of the peaches themselves. At the same time, freeze dried peaches are healthy and safe, do not contain any additives, and Freeze-dried peaches can be used directly as a snack or added to various pastries and desserts, such as fruit salad, oatmeal, bread, biscuits, cakes and fruit tea.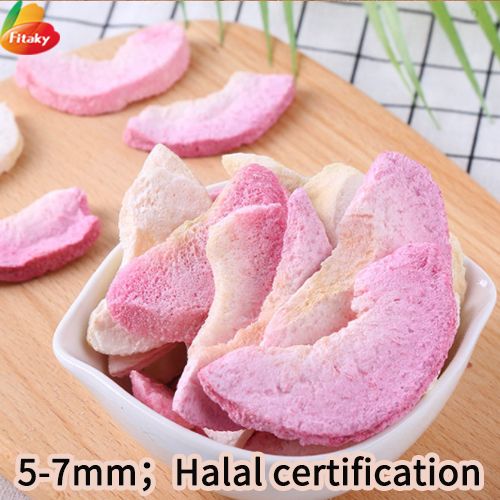 At the same time, in order to meet the consumption needs of different customers, we provide freeze dried peach products of different specifications, such as freeze dried peach slices, freeze dried peach granules, pure freeze dried peach powder, etc.
More information about the freeze dried peaches
1. Factory provide free freeze dried peach slices samples for customers
2. The freeze dried peaches is free of colouring, food additives and preservatives. 100% natural & healthy.
3. The high quality freeze dried peach slices have certified Halal, Kosher, Organic, FDA, etc.
4. Fitakyfood.com support customized specifications, packaging and labels of freeze-dried peaches.
5. Fitakyfood.com has its own logistics and transportation system to ensure fast delivery and perfect after-sales service system.
Compared with fresh peaches, freeze-dried peaches have the following advantages:
Long-term storage: Since freeze-dried peaches remove moisture, they can be stored for a long time without rotting.
Preserve nutrients: During the freeze-drying process, the nutrients in peaches will be preserved as much as possible.
Portable: Freeze-dried peaches are light and portable, and can be used as snacks or backup food.
Easy to use: Freeze-dried peaches can be eaten directly or added to various foods, which is very convenient.
Taste and taste: The texture and taste of freeze-dried peaches is similar to that of fresh peaches, but more tangy and sweet, because more of the flavor and aroma are retained after the water is removed.
If you are interested in freeze-dried fruit, please feel free to consult!
Packing of the freeze dried peaches
Bulk package: Two PE bag inside, carton outside. 2kg*3/ctn , 5kg*1/ctn, 10kg*1/ctn
small package: 10g/bag, or 15g/bag, or 20g/bag, etc, as customers required with their own label.