Freeze dried peaches, also called FD Peaches, have no added sugar. It reflects the taste of the peaches themselves. At the same time, freeze dried peaches are healthy and safe, do not contain any additives, and can be safely eaten as a daily fruit snack.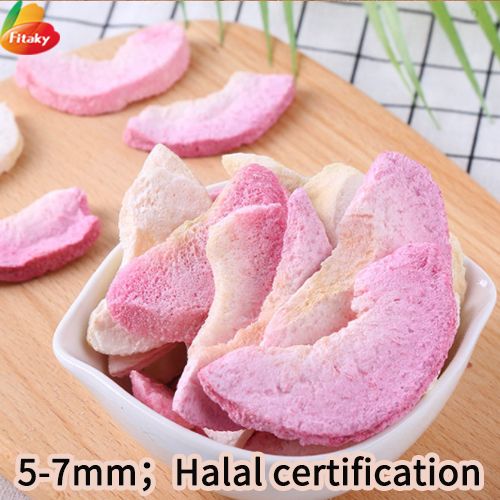 At the same time, in order to meet the consumption needs of different customers, we provide freeze dried peach products of different specifications, such as freeze dried peach slices, freeze dried peach granules, pure freeze dried peach powder, etc.
More information about the freeze dried peaches
1. Provide free freeze dried peach slices samples
2. Free of colouring, food additives and preservatives
3. Certified Halal Kosher Organic, etc.
4. Support customized product specifications and packaging of freeze-dried peaches
5. Fitakyfood.com has its own logistics and transportation system to ensure fast delivery and perfect after-sales service system.
As the freeze dried fruits manufacturer, we can provide more than 40 kinds of freeze dried fruits, such as freeze dried mango, freeze dried strawberry, freeze dried apple, freeze dried dragon fruit, freeze dried pineapple, etc.

Packing of the freeze dried peaches
Bulk package: Two PE bag inside, carton outside. 2kg*3/ctn , 5kg*1/ctn, 10kg*1/ctn
small package: 10g/bag, or 15g/bag, or 20g/bag, etc, as customers required with their own label.