Premium freeze dried juicy peaches are different from candied fruit. There is a lot of sugar added to the candied fruit, but the freeze dried peaches have no added sugar. It reflects the taste of the peaches themselves, so you don't have to worry about getting fat after eating too much. At the same time, freeze dried peaches are healthy and safe, do not contain any additives, and can be safely eaten as a daily fruit snack.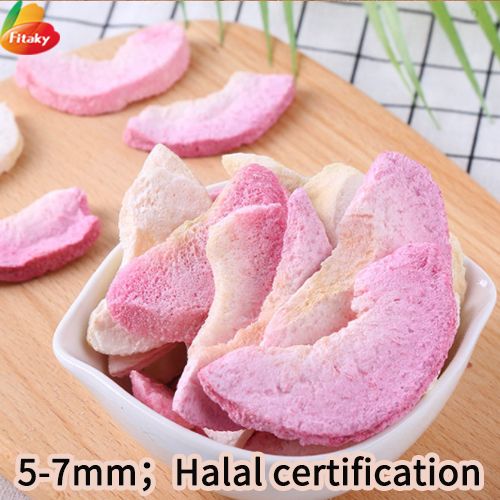 At the same time, in order to meet the consumption needs of different customers, we provide freeze dried peach products of different specifications, such as freeze dried peach slices, freeze dried peach granules, pure freeze dried peach powder, etc.
Our annual output of freeze dried peaches has reached 500 tons, ensuring long-term stable supply.
More information about the freeze dried pink peaches
1. Type: slices/granules/powder
2. Shelf life: 12 months
3. Provide free samples & support customization (Packing & Logo & Size)
4. Crispy and no sugar
5. Suitable for all ages
6. Certified Halal, Kosher, Organic, etc.
Hot sale freeze dried juicy peach samples(provide free samples)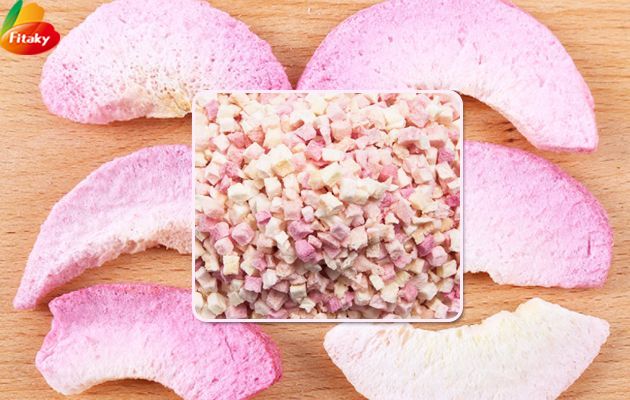 As the freeze dried fruits manufacturer, we can provide more than 40 kinds of freeze dried fruits, such as freeze dried mango, freeze dried strawberry, freeze dried apple, freeze dried dragon fruit, freeze dried pineapple, etc.
If you are interested in the freeze dried fruit dried pink peaches, contact Polly freely.
Email: polly@machinehall.com
Whats app: +86 18538192032
Packing of the freeze dried peaches
Bulk package: Two PE bag inside, carton outside. 2kg*3/ctn , 5kg*1/ctn, 10kg*1/ctn
small package: 10g/bag, or 15g/bag, or 20g/bag, etc, as customers required with their own label.
Load of the freeze dried peaches
If packing in 20kg/carton, one 20ft container can load 3 mts, one 40ft container can load 5 mts