High quality peach powder maintains the original taste of the peach itself, with good fluidity, good taste, easy to dissolve and easy to store.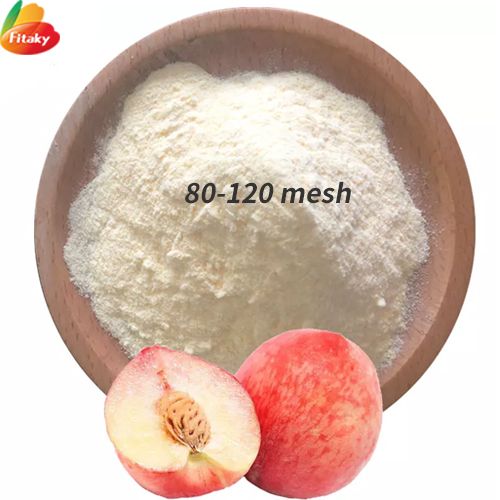 More information about the high quality peach powder
1. Provide free samples & custom products and packaging
2. Certified Halal Kosher Organic, etc.
3. Non-GMO, no food additives and preservatives
4. Support for bulk orders
5. 100% factory price & fast delivery
6. Perfect after-sales services
Peach powder can not only be added as a raw material to wine, juice, bread, cakes, biscuits, candies and other foods. It can also be used as a food additive, which can not only improve the color, aroma and taste, but also improve the nutritional value of food.

At present, there are nearly 100 kinds of pure fruit and vegetable powder, mainly including banana powder, dragon fruit powder, apple powder, pineapple powder, mushroom powder and so on.

Friends who are interested in fruit and vegetable powder are welcome to consult at any time.
Packag of the peach powder
25kg/drum (25kg net weight,28kg gross weight; Packed in a cardboard-drum with two plastic-bags inside. Drum Size: 510mm high, 350mm diameter) ; 1kg/bag (1kg net weight, 1.2kg gross)