Dragon fruit is rich in nutrition and has unique functions. It contains vegetable albumin and anthocyanins, which are rare in general plants, rich in vitamins and water-soluble dietary fiber.
Fitaky dragon fruit raw powder is made from fresh dragon fruit pulp, processed by the world's advanced spray drying technology, without adding preservatives, flavors, and pigments. It effectively maintains the nutritional content and fragrance of fresh dragon fruit, dissolves instantly and is easy to use.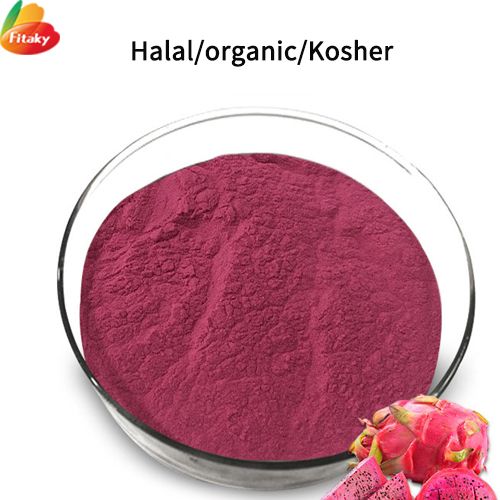 Applications of dragon fruit powder:
It can be brewed directly or used as a raw material powder: used for instant solid drinks, sauces, fillings, ice cream, biscuits, pastries, meal replacement powder, candy, pudding, cooking, etc.
The benefits of the organic dragon fruit powder
1. Provide free samples & Custom Packaging and Products
2 The fruit powder is rich in dragon fruit flavor, non-GMO, free of coloring and food additives.
3.The pitaya powder has certified Halal, Kosher, Organic, etc.
4. shelf life: 24 months
5. 100% factory price & Fast delivery
Fitaky provides over 100 kinds of high quality fruit and vegetable powder and bulk healthy freeze dried fruits, such as freeze dried dragon fruit slices, which not only taste crisp, but also rich in nutrition.
Packing of the dragon fruit powder
by 1kg/aluminium foil bag

by 20kg/drum
by customer's option
Load of the dragon fruit powder
If packing in 20kg/carton, one 20ft reefer container can load 14 mts, one 40ft reefer container can load 22 mts.