Food grade banana powder with Halal certification Supplier-Fitaky. As the professional banana powder supplier, we can provide different grades and different processing methods of banana powder to meet the needs of different customers.
So far, our annual output has reached 2,000 tons, with sufficient reserves, stable supply and global supply.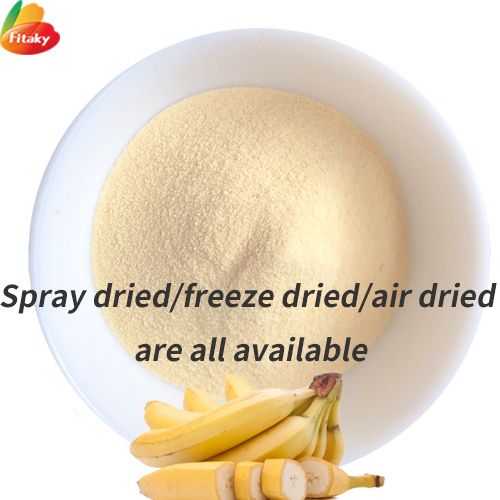 Pure banana flour is widely used in baking, beverages, bread, cookies, cakes, etc.
So far, our banana powder has been exported to Malaysia, Singapore, South Korea, Japan, Canada and other countries.
Benefits of the organic banana powder

1. Provide free samples & support customization
2. More than 30 kinds of fruit and vegetable powder available
3. No pesticide and heavy metal residues
4. A lot of carbohydrates and dietary fiber in bananas can prevent cancer and fight cancer.
5. Type: air dried, spray dried, and freeze dried
6. Shelf life: 24 months
About the premium fruit powder, we still have apple powder, pitaya powder, peach powder, etc. more than 50 kinds of fruit and vegetable powder.
If you are interested in the high quality banana powder, and wanna know the banana powder price, contact me freely.
Email: polly@machinehall.com
Whats app: +86 18538192032
Packing of the high quality banana powder
1kg, 2kg, 5kg/Foil bag
10kg*2/carton
25kg/drum
Load of the banana powder
If packing in 20kg/carton, one 20ft container can load 14 mts, one 40ft container can load 22 mts