Freeze dried dragon fruit is also called freeze dried pitaya, which is a healthy daily snack. Freeze-dried dragon fruit can maintain the active ingredients such as anthocyanins, flavonoids and vitamins rich in dragon fruit, while maintaining the color and flavor of dragon fruit. The freeze dried dragon fruit slices do not contain any additives, which has the advantages of light weight, fast rehydration, convenient consumption and long storage period.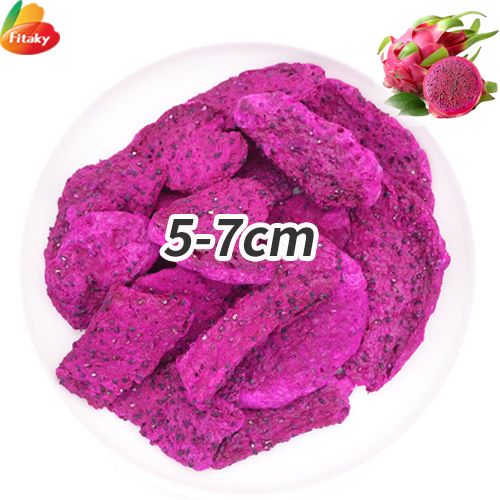 Freeze dried products include freeze dried strawberry, freeze dried strawberries in chocolate, freeze dried mango slices, freeze dried pineapple slices, freeze dried lemon slices, freeze dried peaches, freeze dried apple slices, freeze dried carrot slices, freeze dried dragon fruit powder, etc., with different specifications and sizes.
In order to provide customers with a better consumption experience, we can provide customers with free samples and customize freeze-dried dragon fruit according to customer needs. In addition, we already have more than ten years of import and export experience, have our own logistics line, and deliver quickly.
Welcome to consult at any time!
Packing of the freeze dried dragon fruit slices
Small bags: 100g, 200g, 300g, 500g, 1kg, 2kg, 3kg, etc
Bulk packaging: 10kg per carton lined with double PE bags with carton outside
Load of the freeze dried dragon slices
If packing in 10kg/carton, one 20ft container can load 3 mts, one 40ft container can load 5 mts