High quality freeze dried sweet corn is made from fresh corn by freeze-drying technology. Its biggest characteristic is to retain the color, fragrance, taste, shape of the product and the nutritional ingredients of the original ecological food.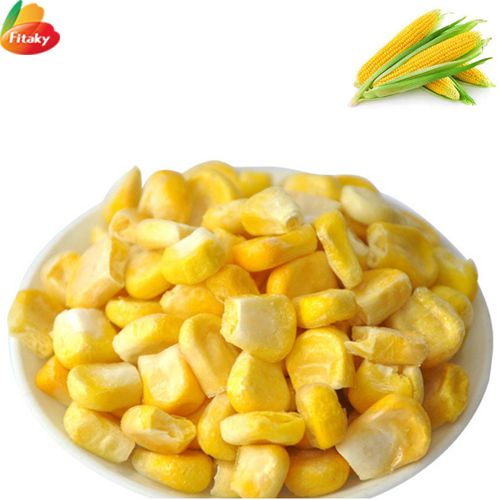 In addition to this, we have a large collection of organic pure cornmeal that can be used in baking, making soups, porridges, beverages and more.
More information about the freeze dried sweet corn
1. Factory provide free samples & Support customizaiton & OEM services (Packaging, Labeling, Specifications, etc.)
2. The freeze dried sweet corns have certified Halal, Kosher, Organic, FDA, BRC, etc.
3. Non-GMO & No Food Additives & No Preservatives
4. Non-GMO & No Food Additives & No Preservatives
5. Perfect after-sales service system, guarantee product quality.
6. 100% factory price & fast delivery
As the professional freeze dried fruit and vegetable manufacturer and the supplier, we supply more than 100 kinds of freeze dried fruit and vegetables such as organic freeze dried food bulk,such as freeze dried okra, freeze dried carrot slices, freeze dried lemon slices, etc.
Friends who are interested in the freeze dried fruit and vegetables are welcome to consult at any time.
Packing of the freeze dried sweet corn
Outer Package: Carton
Inner Package: Double PE bags non-toxic, without any metal materials
NW: 10kg or 5kg/carton
GW: 11kg or 6kg/carton
Load of the freeze dried sweet corn
If packing in 10kg/carton, one 20ft container can load 3 mts, one 40ft container can load 6 mts