High quality freeze dried mango slices use vacuum freeze-drying dehydration technology, non-fried, non-puffed, crispy, nutritious, suitable for all ages.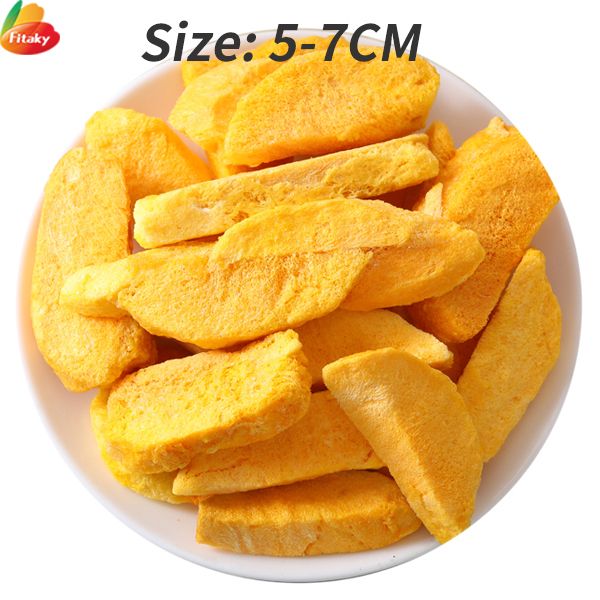 Advantages of the high quality freeze dried mango slices
1. The color, nutrition and taste of freeze-dried mango slices are almost the same as fresh mangoes without any food additives.
2. The taste is crispy, the mango flavor is rich, and the nutrition is rich.
3. Individually packaged, easy to carry and use.
4. Provide free samples & support customization (Logo & Packing & Size)
5. 100% factory price
6. Certified organic, Halal, Kosher, etc.
In addition to high quality freeze dried mango slices for sale, we also have pure mango powder with different processing methods, such as spray-dried mango powder, freeze dried mango powder, hot air-dried mango powder, etc., to fully meet the needs of different customers.
Besides, we have more than 80 kinds of freeze dried fruit and vegetables for sale, such as freeze dried strawberry, freeze dried dragon fruit, freeze dried apple, etc.
Interested friends are welcome to consult at any time.
Packaging of the freeze dried mango slices
Outer side:packed on the carton of 5-10kg, Inner side: double polybags or according to client request
Load of the freeze dried mango slices
If packing in 10kg/carton, one 20ft container can load 3mt