Dehydrated garlic granules are processed from fresh garlic after selection, peeling, washing, drying, selection, grinding, screening and grading, packaging and other processes. The color of dehydrated garlic granules is light yellow and bright, no black spots, the moisture content is less than 6%, no food additives, no preservatives are added, and the shelf life is up to two years under the correct storage conditions.
Besides, the organic granulated garlic hs passed IOS9001, HALAL, BRC, HACCP, FDA, Kosher, Organic, Brc and other certifications.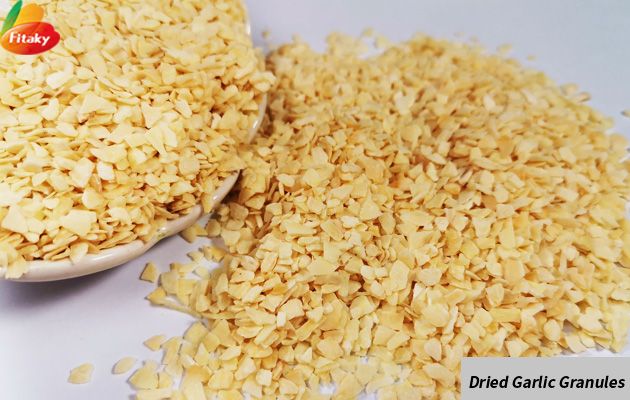 Granulated Garlic
Dehydrated garlic granules are mainly used for pickling, or for processing sauces, seasonings, salad dressings, cheese snacks, canned and prepared foods, meat, etc. Generally packaged alone or mixed with other spices, salt, etc.
The size of the dehydrated garlic granules: 5-8mesh; 8-16mesh; 26-40mesh; 40-80mesh. So we support customized specifications and packaging of granulated garlic.
We have all kinds of garlic products, such as garlic powder, dehydrated garlic granules/slices, fried garlic slices/granules, roasted garlic slices/granules, etc. We also support customization of compound seasonings, such as garlic salt powder, ginger garlic powder, etc.
Interested friends are welcome to consult at any time.
Packing of the dried garlic granules
1kg/bag, 2kg/bag, 5kg/bag or as your require; 20kg/carton
Load of the dehydrated garlic granules
If packing in 20kg/carton, one 20ft container can load 14 mts, one 40ft container can load 22 mts