Compared to fresh garlic, the dried garlic powder seasoniong has a longer shelf life and is easy to use. what's more, we provide customers with free samples for product testing and support the customization of compound seasonings of various flavors.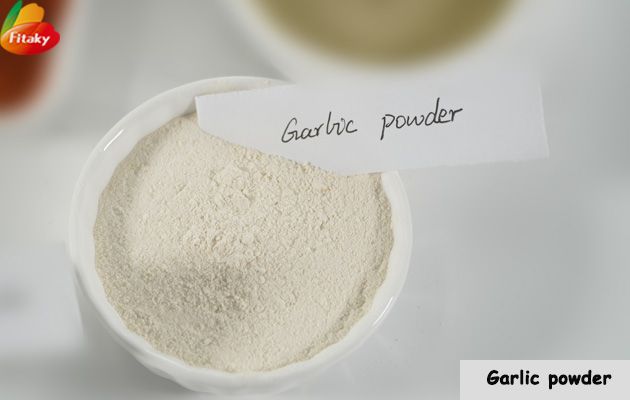 As the professional garlic powder supplier and manufacturer, we have large quantity garlic powder for sale. Fitaky garlic powder mostly is exported to Brazil, Indonesia, Singapore, Malaysia, Spain, Thailand, Canada, Colombia and other more than 100 countries.
More information about the organic garlic powder
1. Certified Halal. Kosher, Organic, FDA, BRC, etc.
2. Pure and rich garlic flavor, non-GMO, no additives, green and natural
3. 100% factory price & Fast delivery
4. Garlic powder can be directly sprinkled on food for seasoning or can be made into compound seasoning together with other seasonings.
5. Garlic powder contains relatively comprehensive trace elements, especially potassium and phosphorus.
As the professional garlic products supplier, we have bulk garlic products for sale, such as dehydrated garlic granules, dehydrated garlic slices, etc.
Friends who are interested in dehydrated garlic products are welcome to consult at any time.
Packing of the pure garlic powder
12.5 kg/Foil bag; 12.5 kg*2/carton; 30 kg/drum
As customer's requirement