Ginger powder is also called powdered ginger, ginger root powder, or ground ginger, etc. Organic ginger powder tastes hot and strong, like peppery and warm with lemon undertones with rich flavor, is a family, food seasoning. Ginger powder is known for its strong, spicy flavor and is often used in Asian, Indian, and Middle Eastern cuisine.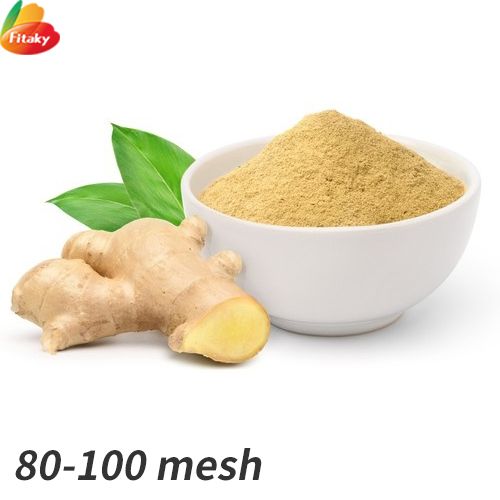 Details about the high quality ginger powder
1. The orgnaic ginger powder has no additives and preservatives. Naturally healthy and Non-GMO.
2. The pure ground ginger has certified Halal, Organic, Kosher, Brc, etc.
3. 100% factory price & fast delivery
4. Customization: product customization, packaging customization, OEM, etc.
5. We can provide free ginger powder samples for customer' product test.
In addition to its use as a spice, ginger powder has several health benefits. It has anti-inflammatory properties that can help reduce pain and swelling in the body. Ginger powder can also aid in digestion and help alleviate nausea and vomiting.
When using ginger powder in cooking or baking, it is important to use it sparingly as it can easily overpower other flavors. A general rule of thumb is to use about 1/4 teaspoon of ginger powder for every tablespoon of fresh ginger called for in a recipe.
We provide more than 70 condiments, as well as dried ginger flakes, onion powder, garlic powder, chili powder, cinnamon powder, etc., with sufficient and stable supply and fast delivery.
Welcome to consult anytime.