Dried ginger slices are processed from newly harvested fresh ginger, which has a strong ginger flavor, uniform shape and uniform appearance.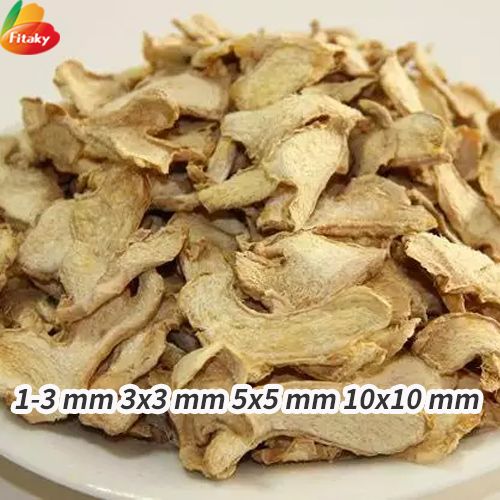 More details about the organic dried ginger slices
1. Customization: product customization, packaging customization, support OEM services, etc.
2. The dried ginger slices have certified Halal, Kosher, Organic, ISO, BRC, FDA, etc.
3. Provide free dried ginger slices samples for customers.
4. Factory direct supply, monthly output 30 tons, no middleman to make the difference, the best price!
5. The factory has its own logistics and transportation system to ensure fast delivery and perfect after-sales service system!
As the professional dried ginger slices manufacturer in China, we have bulk dried ginger products, such as dried ginger powder, dried ginger granules,dried ginger slices, etc.
Friends who are interested in dehydrated ginger products are welcome to consult at any time.
Packing of the dried ginger slices
1kg, 2kg, 3kg, 5kg/Foil bag
2*10kg/carton Inner double PE bags and outside carton
Load of the dried ginger slices
If packing in 20kg/carton, one 20ft container can load 14 mts, one 40ft container can load 22 mts.