Spray-dried papaya powder, also called pawpaw powder, is a kind of pure fruit powder made from papaya pulp. It has fine powder, good water solubility and is not easy to agglomerate. Papaya powder is often used as a flavoring agent in food, nutritional supplements or an ingredient in cosmetics. Papaya powder is rich in vitamin C, vitamin A, fiber and antioxidants, which has many health benefits.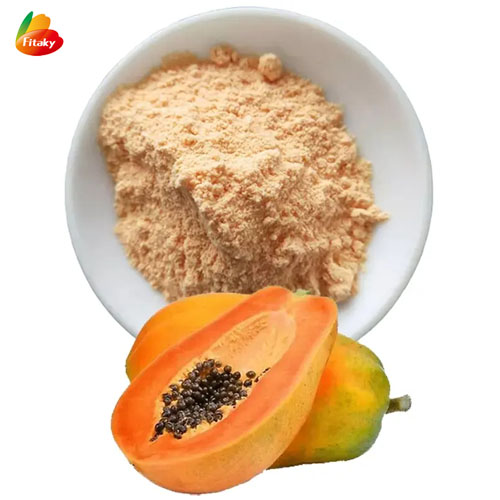 As a professional fruit and vegetable powder manufacturer, we can provide customers with the following services:
① According to the customer's product use, provide customers with suitable fruit powder samples for customer product testing.
② For distribution customers, we can provide customized packaging, labels, specifications, processing methods and other services.
③Fitaky papaya powder has passed organic, halal, kosher, FDA, BRC, ISO9001, HACCP and other product certifications to ensure product quality.
④Fitaky has more than ten years of experience in the production and sales of fruit and vegetable powder. It has a wide range of products and can provide 80+ fruit and vegetable powders, such as strawberry powder, mango powder, apple powder, pumpkin powder, etc.
Welcome to consult and visit the factory for fitaky fruit and vegetable powder at any time!