Red cabbage powder is processed from fresh purple cabbage, non-GMO, without any coloring and additives, healthy and safe.
Currently, our pure red cabbage powder has reached 500 tons a month, and the global supply continues to be stable.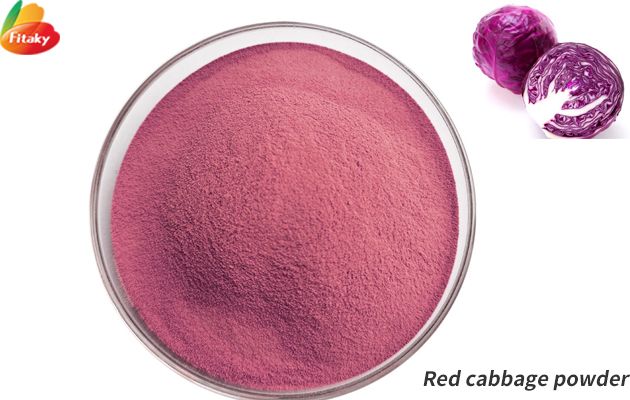 More information about the red cabbage powder
1. Provide free samples & support customization
2. Non-GMO & Gluten Free & Additive Free
3. Healthy, safe and versatile
4. Certified Halal, Kosher, Organic, etc.
5. 100% Factory price
6. Fast delivery & Shelf life: 24 months
Applications of the hot sale purple cabbage powder

Red cabbage powder can be used in the production of soup, bread, noodles, cookies, seasonings, salads, nutritional supplements, etc., and can also increase the flavor and taste of the product itself.

Fitaky offers more than 100 varieties of fruit and vegetable powders, such as barley grass powder, kale powder, spinach powder, strawberry powder, etc.
Friends who are interested in fruit and vegetable powder are welcome to consult at any time.
If packing in 20kg/carton, one 20ft container can load 14 mts, one 40ft container can load 22 mts.
If packing in 25kg/carton, one 20ft container can load 17 mts, one 40ft container can load 26 mts.