Fitaky mushroom chips adheres to the principles of nature, health, and balance, and adopts advanced vacuum dehydration technology to produce shiitake mushroom crisps that retain the original flavor of shiitake mushrooms, without adding food assitives and preservatives, and absolutely want you to eat fresh, natural, safe and delicious!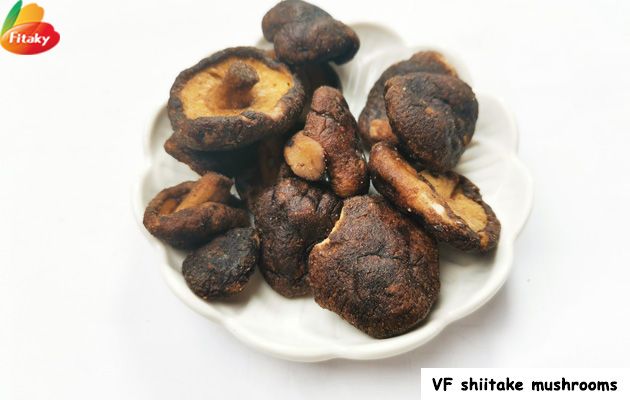 More about the snacks shiitake mushroom crisps
1. Factory provide free samples for customers to test the quanlity. & support customization (packing, Logo and size)
2. Fitakyfood.com supports customization (packing, Logo and size) and OEM services.
3. Mushroom Crisp with crispy taste, high quality, low breakage rate.
4. The VF mushroom chips have certified Halal, Organic, Kosher, FDA, etc.
5. 20% less oil than ordinery fried products, less oil and healthier
6. Crispy mushrooms is a plant-based snack made of fresh mushrooms and does not contain MSG. It is very popular among people!
So far, the organic crispy mushrooms have been exported to 100+ countries, such as UK, Korea, Japan, Singapore and other countries, and have been well received.
Except the hot sale shiitake mushroom crisps, we have more than 50 kinds of vacuum fried fruit and vegetables, such as vacuum fried okra, vacuum fried potato chips ,vacuum fried carrot chips,etc.
Interested friends are welcome to consult at any time.
Packing of the shiitake mushroom crisps
500g/bag; 1kg/bag
10kg/carton or as customer's request
Load of the shiitake mushroom crisps
If packing in 20kg/carton, one 20ft container can load 5 mts, one 40ft container can load 8 mts