Dehydrated Cabbage Benefits
As we all know, dehydrated cabbage is widely used in our daily life. For example, the production of instant noodle seasoning packets and instant soups are inseparable from dehydrated cabbage. At the same time, we should also know what are the benefits of dehydrated cabbage?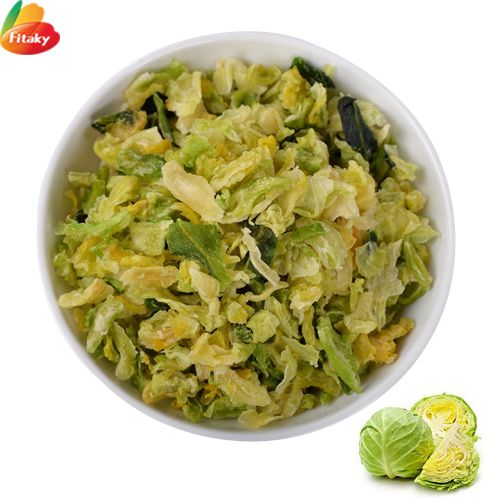 1. Cabbage is full of nutrients
Although cabbage is very low in calories, it is rich in vitamins, minerals and antioxidants that are very beneficial to the body.
2. It may help control inflammation
Cabbage contains powerful antioxidants that may help reduce inflammation.
3. Cabbage is rich in vitamin C
Vitamin C is a water-soluble vitamin that plays many important roles in the body.
Additionally, vitamin C helps the body absorb non-heme iron, the type of iron found in plant foods.
4. It Helps Improve Digestion
Cabbage contains insoluble fiber, which keeps your digestive system healthy by fueling friendly bacteria and promoting normal bowel movements. Fiber-rich cabbage is the way to go if you want to improve your digestive health.
5. May help keep your heart healthy
Red cabbage contains powerful compounds called anthocyanins. They give this delicious vegetable its vibrant purple color.
Cabbage contains more than 36 different types of powerful anthocyanins, making it a great choice for heart health.
6. Can Lower Blood Pressure
Potassium helps keep blood pressure within a healthy range. Increase your intake of potassium-rich foods
Something like cabbage may help lower high blood pressure levels.
Doctors often advise people with high blood pressure to reduce their salt intake. However, recent evidence suggests that increasing dietary potassium is just as important for lowering blood pressure.
7. Can Help Lower Cholesterol Levels
Cholesterol is a waxy, fatty substance found in every cell in your body.
Some people think that all cholesterol is bad, but it is essential for the proper functioning of the body. The consumption of dehydrated cabbage can help reduce cholesterol levels.
Fitaky, as the professional manufacturer and supplier of dehydrated vegetables, we currently supply more than 100 kinds of dehydrated vegetables, such as dehydrated carrots, dehydrated spinach, dehydrated broccoli, etc. with a wide variety and sufficient supply. Friends who are interested in dehydrated cabbage are welcome to consult at any time, we provide free samples and customized services.
Email: polly@machinehall.com
Whats app: +86 18538192032
Website: https://www.fitakyfood.com/product/dehydrated-cabbage.html