The Benefits Of The Dried Ginger Chips
We all know that ginger products not only can be used as a seasoning, but also have important medicinal value. But how much do you know about the benefits of dried ginger?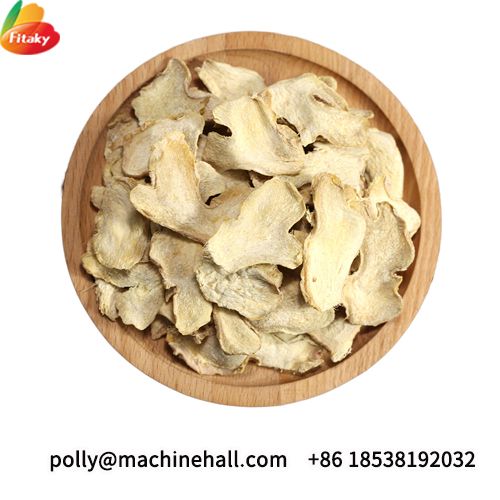 To sum up, the benefits of dried ginger chips mainly include the following five points:
1. lose weight
Dried ginger chips promote weight loss by improving digestion, which helps burn stored fat and process glucose in the blood. It also speeds up metabolism and controls fat absorption due to its thermogenic properties. Another benefit of dried ginger is its ability to suppress hunger and overeating.
2. indigestion
Dried ginger chips can also relieve stomach pain and discomfort caused by chronic indigestion. Delayed gastric emptying is said to cause indigestion, and ginger has been shown to alleviate this problem. A study in 24 healthy subjects showed that consuming 1 to 2 grams of dried ginger powder before meals increased gastric emptying by 50%.
3. menstrual pain
Dried ginger chip has also been traditionally used to relieve various pains, including menstrual pain.
nausea and morning sickness
Ginger is also effective in reducing nausea and morning sickness in pregnant women. Consuming half a teaspoon of dried ginger powder mixed with honey and warm water can provide quick relief for those suffering from these symptoms.
4. lower blood sugar
Dried ginger chips are an excellent natural remedy for controlling high blood sugar in the body. A person can consume up to two grams of ground ginger with a pinch of salt in warm water. It is better to take it in the morning on an empty stomach.
5. relieve inflammation
Dried ginger chips mixed with salt also helps reduce inflammation in the body, especially swollen joints and fingers. It has also been shown to relieve inflammation caused by injury.
As the dried ginger chips manufacturer, we have bulk high quality dried ginger products, such as dried ginger powder, dried ginger chips, dried ginger whole, etc.
If you are interested in the dried ginger chips and wanna know the dried ginger chips price, contact Polly freely.
Email: polly@machinehall.com
Whats app: +86 18538192032
Website: https://www.fitakyfood.com/product/ginger-flakes.html